This is an article about my new co-pets but I thought I'd start it off with a photo of me. Cute as my new co-pets are, I don't think they can really compete with a photo of me like the one above. Do you see how cute my little tongue is? Actually, this photo has some relevance to this post since I am standing behind the new guinea pig pen. My two new co-pets, Hello Pineapple and Sambal get to hang out in the pen in the evenings while my owner and I go swimming.
When Coral and Carl (that's my owner's daughter and son-in-law), pulled up roots and decided to basically live in their car, my owner and I ever so graciously took in their pets. For people living in a small one-bedroom apartment, they had a lot of pets. And now I have a lot of co-pets.
One of my new co-pets is also an old co-pet, Maple Bunny. She went to live with Coral and Carl about six months ago and now she is back. She's a cute little dutch bunny but don't let that fool you; she is sneaky.
Now Maple and I hang out on the front porch together in the mornings. At night she comes in and sleeps in my owner's office. She loves to be scratched and can be a bit of a pain. Like when she climbs on me.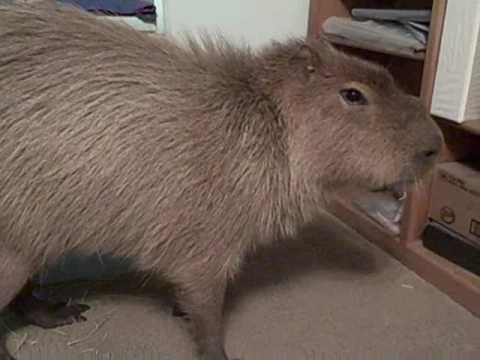 You have to watch all the way to the end to see her climb on me but I think you'll enjoy the whole video.
My other two new co-pets are Hello Pineapple and Sambal. They are guinea pigs. Guinea pigs are like little capybaras that are soft and don't have any legs.
Guinea pigs are kind-of shy, from what I can tell. I don't like to say it, but I like Sambal a little better than Hello Pineapple because she is not as soft. I guess I am a bit jealous of that soft fur most of them have. Sambal is more like me though. I wonder if she can swim.
Hello Pineapple is pretty cute too but she is even more shy than Sambal. Surprisingly, she is also a bully. The two of them cannot be kept together because HP, who is about half Sambal's size, will beat her larger co-pet up whenever she gets the chance. She looks sweet but she's really a secret ninja. I am about 200 times bigger than her though so I don't think I have anything to worry about.
You may remember that HP had a cameo on my segment on Inside Edition, at one point she was perched on my back.
I'll be sure to keep you all updated on my new co-pets' status in future posts. Hopefully the guinea pigs will stop being so shy and will learn to swim.