This week my owner and I went to the Buda Public Library to give a presentation on capybaras. She had some slides of wild capybaras that she took in Venezuela and I had me. We actually make a pretty good team although, to be honest, I think I could carry the whole show by myself.
The library visit was really fun. There were lots of kids and adults there. Lots of my fans and some people who were just learning about capybaras for the first time. It is so great to meet fans who have seen me on YouTube or Animal Planet or here on my blog. It's a pretty great feeling when those people come to meet me in person. I don't think they are ever disappointed by me. I sure hope not!
One of my fans was Mark Sherwood.
Mark brought his whole family to see me! He is one of my FaceBook friends and I stole the photo above and the one below from his FaceBook page. I hope you don't mind Mark!
I also  met a really special fan named Nic Lara. You can see him in the top photo, he is wearing the blue shirt with white stripes. Nic brought me a bag of birthday presents! And they were all great. Here's a photo of me with Nic and some of the presents.
Nic gave me that great orange bandana I am wearing in the photo. I have decided that orange is my color. It goes great with my fur.
But do you see the papers Nic is holding? Those are a comic strip Nic made featuring ME! I scanned them in so you all can read them. It is a great comic and I hope he sends me the second installment because I am dying to know what happens.
Don't forget that you can click on the images to see a larger version.
If that weren't enough, Nic also gave me a great big box of spinach! I love to eat spinach while watching TV with my owner in the evening so this is a wonderful gift for me. My owner made a video of me eating the spinach.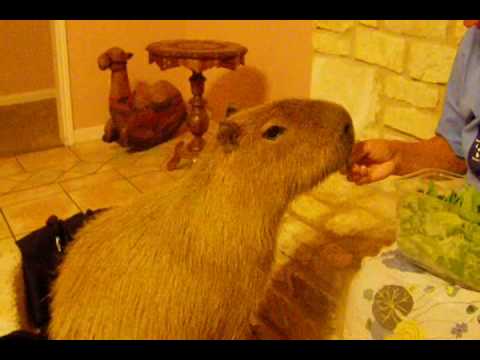 As you can see, the library visit was a pretty great day for me and my owner.