There's so much going on in my life now that I just have to share it with my fans! Well, I guess some of you have more interesting and exciting lives but I do pretty well for a capybara.
Firstly, I'd like to talk about the wonderful day I had yesterday. It started out with my usual popsicle on the porch with my owner first thing in the morning. I think I had blueberry. Maple was there too and she even hopped into my bed with me after I settled in for my morning siesta.
A little later Sheldon came over and the three of us–me, Sheldon and my owner–headed off to Chipotle down on Brodie Lane in Austin. It is one of our favorite eating places because they have a nice outdoor covered eating area that's got a little fence so I can roam around more freely.
I so wish I could meet all of my fans from all over the world but I am happy to meet those I can. On Saturday I met a whole bunch of them. In the photo above, you see me with Milana. She is a very nice fan and luckily for both of us, she lives in Austin. She has two pet guinea pigs but they didn't get to come because it was too hot for piglins. I can take the hot weather but my little relatives cannot. I guess it's all that fur. Anyway, don't you think that's a cute photo of me with Milana? It really shows off my nose. And I am wearing my new orange bandana that Nic gave me for my birthday. Milana reminds me a little bit of a guinea pig. I mean,  I don't think she should stay out in the sun too much.
My new fan Janice was there with her family too. In the photo above you can see her with son Sam posing for a photo being taken by her husband, Matt. Only my owner distracted Sam so probably Matt's photo didn't turn out that well. I was posing quite nicely, as you can see. Janice said she has always loved capybaras (and I think Sam has too) but only just learned about me. That's odd because I am the World's Most Famous Capybara.
Janice has two dogs and she makes them special homemade yogurt. She made some for me too, mango/banana. That sounds like a delicious flavor but she seemed to have missed that fact that I have a serious sweet tooth. And I wasn't actually hungry when we were at Chipotle. At home my owner sweetened it up and I ate a bunch of it. Thanks Janice!
I think the photo above is a cute shot of Sam pretending to be a capybara. At least I think that is what he is doing.
Other friends who met me at Chipotle were Elizabeth and her daughter Clarissa, both of whom I've known all my life, and Snoot Comer and his son Hank. Neglectfully, my owner did not get any good photos of them.
When we got home, my owner said it was too hot to go down to the creek and there isn't much water anyway. She said we had to go swimming in the pool instead. So that's what we did.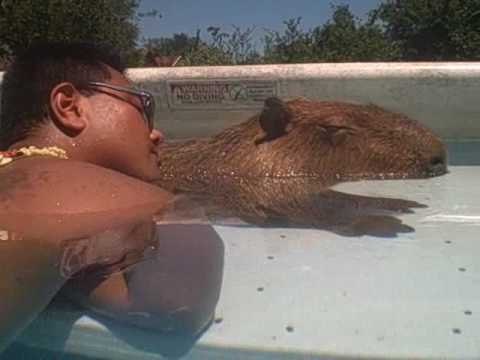 I really love when Sheldon does that little dance with me. It has a hypnotic effect. I do like to bite things when I'm trying to get in a good position so he really should wear something biteable.
Lastly, here is an update on the plush version of me. My owner got this photo of the prototype and we are both thinking it is totally adorable!
We are going to make a couple of changes: the feet will probably be a darker gray, the small toes on the front feet need to be on the outside of the foot, and my butt needs to be filled out a little more. Let me know what you think! Is this something you'd buy for around $15? It should be available in a couple of months but I will keep y'all posted on any developments. When we get the actual prototype, my owner will take photos of me with it and that is going to be just too cute to talk about. When they're ready I'll have a link on how to buy one on this blog.