I am so excited to tell everyone about my new co-pet, Oakley. He is a rabbit, a Dutch bunny just like Maple Bunny but a different color. That is him standing up so proudly in the photo above. He's cute isn't he. And he's friendly. We hit it off right away.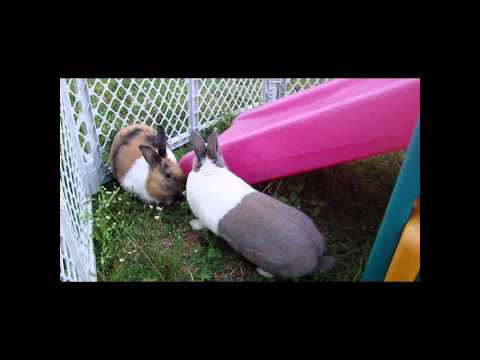 My owner made that video when he first came home. You can see what a big hit he was. Okay, I did think my owner was paying a bit too much attention to Oakley and not quite enough to me, but I'm over that now…as long as she's petting me.
Oakley even gets along with our guinea pig co-pet, Hello Pineapple, and she is not easy to get along with. Guinea pigs can have a real attitude. Maybe they get along because HP thinks Oakley is her. They are pretty hard to tell apart.
Even our horse co-pet, Buzz, came over to check Oakley out.
Okay, maybe Buzz only came over the check out Oakley's food bowl. I can hardly get my nose in there but Buzz managed to siphon up every pellet of food. Not that I'm jealous but what I wouldn't give for a longer tongue or some lips that could pick things up.
Oakley has taken over my window seat and I can't say I'm happy about that but I guess he and Maple can have it until the days get longer. In the summer I love to sit there with the window open and feel the wind through my fur. I don't really do that in the winter. I'm a generous capybara, I can share things I don't want.