I don't know how many of you are thinking that it is too early for me to have another capybara. You're right. I am not over the loss of Caplin Rous by a long shot. I cry every time I think about him. Your cards, your notes, your comments and your donations to his charity all help but they also remind me of how much I miss him. So when Justin from Kapi'yva Exotics wrote me and said he would move me to the top of his list for a baby capybara, I thanked him for his generous offer but said no, at least not now.
A couple of days later Justin sent me another note, this time about a young capybara in Ohio that was looking for a new home. This capybara, named Gary, was about 10 months old and had been raised as an indoor pet. His owner was a nurse who sometimes had to work long shifts and Gary just wasn't getting the attention he needed. Justin had been working with Carol to try to rehome Gary but not that many people are prepared to take a half-grown capybara into their house. Justin was thinking he was going to have to take him himself and put him in an outdoor pen which would be a big shock to an animal that was used to being around people and having heating and air-conditioning.
When I heard Gary's story, I was a little shocked. I never heard of anyone keeping a capy strictly indoors and it didn't seem like a good idea. I exchanged a few emails with his owner who said he was well-behaved, non-aggressive, got along fine with her four-year-old (I also never recommend capybaras to people with young children), house trained, weighed around 40 lbs and was shy. In the summer he had sometimes been outside in a 12×12 foot pen but was otherwise indoors.
Here was a capybara that seemed to need me. Maybe we two lost souls could connect. I said I would take him.
Getting him down to Texas proved complex. He missed his flight (I don't blame him) and almost couldn't pass as a giant guinea pig. Turns out there are more lenient rules for guinea pigs flying than for exotic animals. It also proved that there is no such thing as a free capybara.
Justin sent me the above photo of Gary taken when he was about 10 days old. He was the smallest of his litter and the friendliest. That pretty much sealed the deal.
You can see that we changed Gary's name to Garibaldi Rous. This is in tribute to Caplin Rous. The Rous part is obvious: Rodent of Unusual Size. Garibaldi is because of his original name and the fish garibaldi. You may not know that a caplin is also a fish.
Garibaldi has his own personality and, once he settles in, I'm sure he'll start to blog in his own voice. For now let me just say that he is more rambunctious than Caplin ever was and gets into way more trouble. But he is also sweet and affectionate. His previous owner told the truth when she said he is shy. He is also completely untrained so we have an uphill struggle there. After almost two weeks he is still very skittish and won't even let me put a blanket over him. I think he knows sit now but it is a so hard for him to do it when he can see the lettuce in my hand.
He has taken surprisingly well to the outdoors, although it's been too cold for him to go out much. He can't go in the big pool yet until I know I can hold him to help him get out in case he can't figure out the ladder. He also can't go outside the yard until he is harness trained and walks on a leash.
He eats things that Caplin would never dream of eating like apples, potatoes and carrots. That could just be because he is so ravenous all the time. He acts like he's never been fed. In fact, I wonder if he might not have always been a little hungry and that's why he is so much smaller than Caplin was. At 10 months old, Gari is the same weight Caplin was at 7 months. Justin says this is because his parents, Cappy and Scarlet, are small. I'll be tracking his weight so we'll see what happens.
By the way, Garibaldi Rous was born March 11, 2010.
You can see videos of Garibaldi Rous on Caplin's YouTube channel.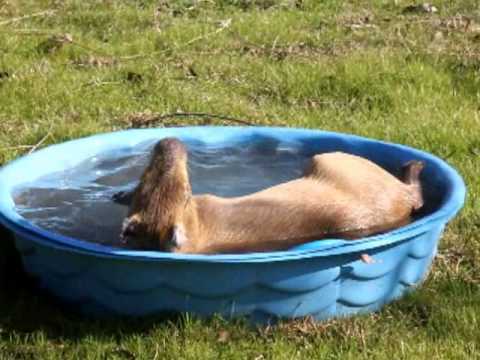 Caplin would NEVER roll all the way over. Never.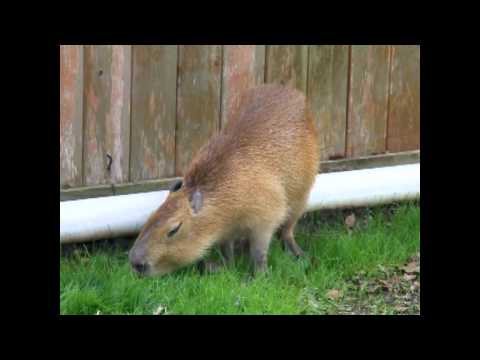 Look how fast he eats!