It is a strange new world I find myself in, very strange and very new, but the world is my playground and I'm in the mood to play!
I guess my new "owner" introduced me already. She gave me this fancy name, Garibaldi Rous, that is more of a name for a diplomat than for a roguish young capybara such as myself. Call me Gari, that name fits me way better. As for her, I'm not into the owner thing. I am going to call her Melly because it rhymes with smelly, you can interpret that any way you want.
Speaking of smells, this new home has a million of them. A lot are of another capybara, Caplin Rous, but they are old smells and I'm getting used to them. At first they made me very nervous. I expected Caplin to jump out from behind every corner, grab me in his enormous teeth and rip me into little shreds of capybara meat. I had to mark the hole house with my own scent, which I still refresh every day just in case.
The great thing about my new home is all the space. It is enormous. And there's a big yard outside too! And rabbits for me to chase through the whole place. A really crazy thing is all the water. Like all capybaras, I love water. I didn't have much to play with at my old home but there is water everywhere here! I even have TWO poop bowls in the bathroom.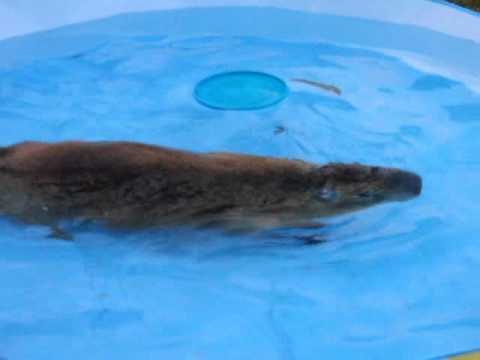 I guess that video is pretty revealing. It shows how much I love the water, how cute I am, how energetic I am and how sharp my teeth are all in one short little clip.
One thing I don't like about this new home is the harness issue. Smelly–I mean Melly–has this thing about me wearing a harness and it just is not working for me.
I think I am going to win the harness battle because I have a lot more energy than she does. Okay, I do admit that I look dashing in it but I still prefer the wild look.
If I could get that harness off in the pond, I'm pretty sure that would be the end of it. I could bury it in the muck where no one would ever find it.
Aside from the water, there are some other perks here. I have met some nice people. There's Rick and Melly of course. They are okay. Sheldon comes over sometimes but I'm reserving judgement on him for the time being. But Coral and Carl get two pig paws up. They are my kind of people.
Well, that's it for my first blog post, I've got some rabbits to chase.