I did not know this was a topic for serious debate, but apparently Melly, my new owner, does not understand what feet are for.
One thing feet are for is demonstrated in the above photo. They are very good at counterbalancing your great big nose when you roll in the water. You can pull them in or stretch them out to achieve the perfect rolling speed. Splay the toes or pull them tightly together to provide the right amount of push.
I'll tell you what feet are not for and that is going on a pointless walk around the outside of the house at a speed I did not choose in a direction I did not choose at a time I did not choose. Have you ever heard of such a thing? They call it a "walk" and it involves that annoying harness and an even more annoying leash. The leash smells like Caplin and so I have to rub my nose on it a lot.
And if we're going to go around the yard, why not do it at a run? Or why not take time out to rest and smell the dirt?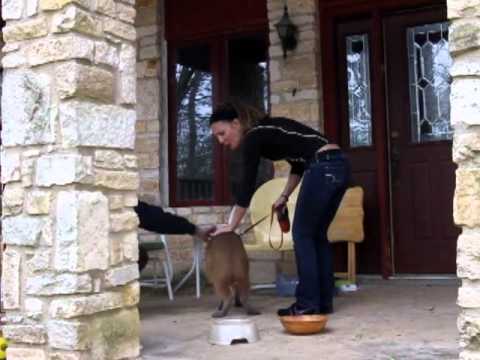 I've known Melly was up to something with that harness but I never dreamed it was something so pointless.
The one good thing about the walk was that I made Coral scream a couple of times and I almost pulled her over. If we ever do this again, I'm going to try just a little harder and I'm sure I can do it. Then I will jump on her while she's down and eat her hair.
After the walk, my feet needed a little babying so I got up on the nice, soft couch and gave them a good once over. I think you can see from the above photo that another thing that feet are for is being cute. I have amazingly cute feet.