Yesterday was a scary day for me and Melly. And for Coral, Sheldon and Elizabeth too. We were all scared and I was the one doing the scaring.
Here's what happened. Round about 4:30 pm, Melly came looking for me. I was sitting on the threshold of the back door, one of my favorite places. But I wasn't right. There was something terribly, terribly wrong with me. I was shaking like a leaf in a hurricane and I looked like someone had poured a bucket of water over me that only got the ridge of my back wet and I was drooling a clear viscous liquid like a rabid rodent who was only drooling and not frothing. And I was breathing very quickly and very shallowly.
Melly panicked! After what happened to Caplin Rous, she's a bit paranoid when it comes to capybara health. She immediately decided that I needed to go to the vet. She didn't want to take me all the way to the A&M vet school though because she knew the exotic animal vet (who is helping us set up the ROUS Foundation), was on vacation. So she decided I could go to the local exotic animal vet. While she was figuring that out, she called Sheldon but he didn't answer his phone. Then she called Elizabeth who said she would be right over. Then she called the vet who said I had to get there within the hour. PANIC!
I know I've been living with Melly and Rick for quite a while now (Rick was in Houston in case you were wondering), but I still am not good about the harness and the leash. And I wasn't feeling well and I just didn't want to do it. So Melly had to chase me all over the house trying to get the harness on me and I was struggling and shaking and hot and cold and wet and miserable and just not feeling up to the whole thing so… I kind of hate to admit this part. I hope none of you will think less of me. Remember, I was sick. I was really stressed out. And I hate the harness anyway.
I guess I might as well come out and say it. I bit Melly.
It wasn't much, just a little nip. But capybaras really aren't capable of giving only little bites. Our teeth are razor sharp and big as daggers (only not shaped like them). So the bite was still pretty bad and blood was everywhere and Melly had to stop chasing me and go bandage up her arm.
I'm not proud of what I did, but you have to understand that I wasn't myself.
After that Melly decided that I needed to go in my crate. That's the same crate I used to fly down here from Ohio. I went right in it so I don't know why she didn't do that to start with.
Elizabeth came soon after that and they bundled me into her van and off we went to the vet's office. It was scary in the van because my crate was rocking pretty wildly as Elizabeth went as fast as possible within the law (for the most part).
I was ever so good at the vet's. You won't believe it but I let him listen to my lungs and take my temperature (and that was NOT pleasant) without biting anyone! They wrapped me in a blanket and that helped. And they kept me in the crate, just removing the lid.
But the vet said my lungs were good and my temperature was 98.4! So I was normal. Only I wasn't normal. I was still shaking and still sweating but now no one knew if that was because I was sick or just because I was nervous (hint: it was because I was sick AND nervous).
The vet sent me home and told Melly to watch me and take me to A&M in the morning if I wasn't better.
At home I was still sick but Elizabeth and Sheldon stayed with us until it looked like I was starting to recover. Melly slept where she could check on me every time she opened her eyes. I didn't eat much and I didn't do much and I didn't poop at all for a long time. Round about 4:00 am, I started feeling better. I ate my dinner from the previous night and I pooped a little bit.
It took me all day to recover to my old fun-loving self.
I'm okay now and Melly says she learned some important things. First that the local vet doesn't know *anything* about capbyaras even if his name is Gary and second that when a capybara shakes, sweats and has rapid, shallow breathing, that means he is in pain! Melly figured that out for herself, the vet didn't even say that.
It's a secret about why I was in pain though. I'm not telling anyone.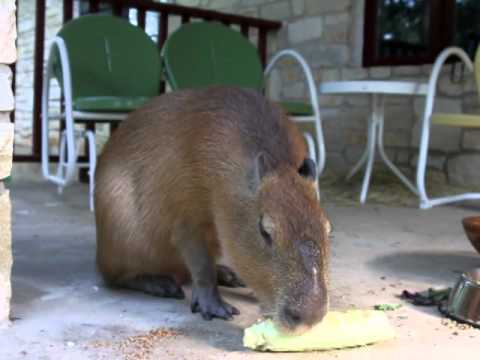 This is me this afternoon. You can see I am recovered.