If you've been following my blog and the adventures of my life, you know that I am recovering from recent surgery. You can see two places where I had stitches in the photo above. I am wondering if this doesn't give me a more sophisticated, capybara-of-the-world look. I wish Melly had smoothed the hair on the back of my neck before she took this photo though, kind of ruins the mood.
When I first saw that eyesore, I decided to turn my back on it. If I pretended it wasn't there, maybe it wouldn't be. It's not nice to have an unpleasant surprise like this when you are still not feeling well, when your sides hurt and your legs are stiff, when you have a splitting headache and you're so hungry you're starving but you really don't feel like eating. It's not nice. So I turned my back on it and expected it to be gone when I looked back.
It wasn't. It was still there.
After several minutes of concentrated ignoring, the horrible obstructive device was still there. I decided I'd better take a closer look. That was when I realized, to my horror, that the barrier lay between me and my most glorious, luxurious, mud-filled pond! Nooooo!
You may not know that we capybara are very strong. There is little we can push over if we put our nose to it. I put my nose to that fence and it didn't budge. (By the way, you can see my other two wounds in this photo, one on my hip and the other behind my ear. The hip one doesn't have stitches. I got that when I jumped while the vet was trying to give me a shot.)
We are nothing if not persistent. I hit that fence with my paw to show it I meant business. If fences could cower, I sure it would have been at that moment, but it still did not open up.
After I gave that fence a scare it won't forget, I decided to give it a little time to think over what we had discussed. There's nothing like turning your back on a problem to make it take you seriously.
While the fence was considering it's options, I took a little swim in the pool. This clean water is fine but sometimes a capybara really wants to get dirty.
After my pool swim, Rick and Melly went in the house and left me alone. I pretended to graze for a while before going back to the fence and taking up where we'd left off.
Of course, the fence gave in. I don't care what that vet says about staying out of the pond while my stitches heal, you can't keep a good capybara clean, that's my motto, stitches or no. Of course Melly was all unhappy about it but sometimes she just doesn't understand. It's one of those things, if you're not a capybara, you don't get it.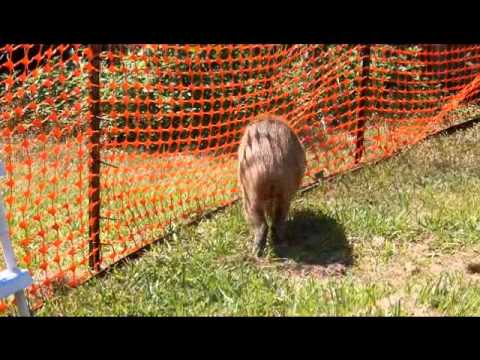 Later, I let Melly see just what I think of that fence.