I am a capybara. I am cute. I have to get used to it. There is nothing I can do about it. But it comes with a cost and that cost is visitors fawning over me, feeding me, scratching and petting me, giving me treats and hugging me. The only one of those things I don't like is hugging. Capybaras don't like to be hugged, it reminds us of anacondas.
I am getting used to visitors. Smelly says I am better at it than Caplin was. It might be the only thing I am better at than Caplin. Smelly says Caplin would bite people if they stayed too long. That never happened but I guess he threatened. I don't do that. The longer people stay, the more I get to know them and the better I like them. Doesn't that make more sense?
In the photo above you can see me with Jim Perry, the wonderful artist who did the Computer Caplin and Angel Caplin paintings, and his friend Hillary. They only stayed for a couple of hours so I didn't get much of a chance to know them, although I'd met Jim before and he is cool. They visited me in mid November.
Liz and Marc Capaldi broke a record on visiting duration. They came over two weekends in a row for a total of three days of visitation. As you can see from the photo above, I really liked them. Okay, it might look like I just like the lettuce but that is not it, I liked them too. Liz is about as crazy about me as a person can be. Marc, while more subdued, is also crazy about me. He has a camera glued to his hand though — Melly has that problem sometimes and it is a terrible handicap — so I didn't get to bond as closely with Marc as I did with Liz.
I made a special point of positioning myself occasionally so that Marc could reach me with his good hand. They are a very nice, soft-spoken, British couple. The British, it seems, know to bring a capybara treats when they come to visit. This is a lesson all humans should learn.
Liz likes to swim too so I hope they come visit me when the weather is warmer and we can lounge around in the pool together. That water is pretty cold and even I can't stay in for very long. Oh hey! That is another thing I am better at than Caplin! Smelly says Caplin would not go in the pool when the water was cold.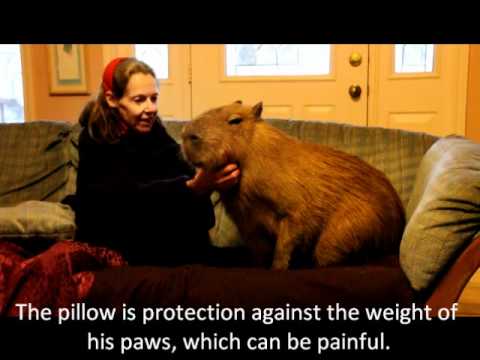 This is a video of Liz scratching me on the couch.
I am quite heavy and it is best to have something on your lap when I sit on you. That is why Liz has a pillow. She moved it away in the video and if you watch her face I think you can see that it was a mistake to do so.
Meanwhile Marc was videoing everything!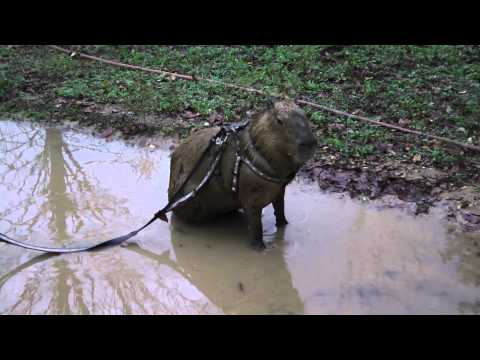 I think this video Marc took is one of my cutest videos ever.
Do you see how playful I can be? I am not all that easy to hold onto when I am in that mood. It takes an experienced capybara handler which, unfortunately, Melly is. I think I look like a bucking bronco but guinea pig people call this popcorning.
You should watch all of Marc's videos of me.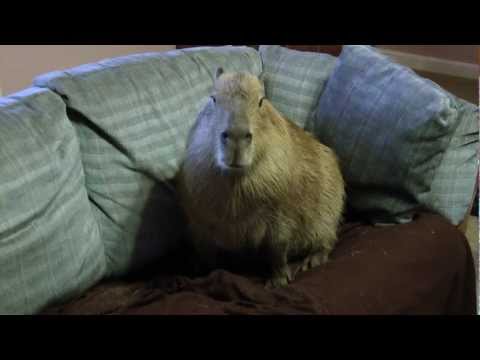 Look how cutely I ask for treats. I am very polite.
I am going to save my visit with Rezoner for another blog post since I think this one already has enough stuff in it. Don't forget to go to the Capaldi's YouTube channel to see all of their great videos of me!