One of the animals we capybaras are most often confused with is an agouti. Agoutis are rodents and their range overlaps with the range of capybaras but we are not the same animal. In the photo above you can see a Panamanian agouti running. In the photo you can see some of the ways we look the same and some of the ways we look different.
There is a time in our lives when we capybaras are as small as adult agoutis. In the above photo, Caplin Rous is about two months old and the approximate size of an adult agouti, that is about eight pounds. Of course, Caplin didn't stay that size just as I haven't. At one hundred pounds or more, an adult capybara is much, much larger than an adult agouti.
Here are some ways we are the same:
Similar color
Both rodents
Three toes on the back feet
Cute ears
Humped back
We both have hoof like toenails on our back feet
We both have big rodent teeth
We are both cute
We both have underslung mouths
We are both herbivores
Humans eat both capybaras and agoutis
Some ways we are different:
Capybaras are much larger
Capybara legs are thicker and sturdier
Agoutis have five toes on their front feet and capybaras have only four
Agoutis have little hands on their front feet and capybara front paws are useless
Agoutis like to live in forest undergrowth and capybaras prefer grasslands with swampy areas
Agoutis eat fruit while capybaras eat mostly grass
Capybaras are great swimmers and agoutis not so much
Capybaras have blunt noses and agoutis have pointed noses
Capybaras live in herds, agoutis live in monogamous pairs
Agoutis have a tiny tail, capybaras have no tail or an even tinier one
Agoutis are slender while capybaras are stocky
Agoutis can sit up and eat using their little paws. They can also groom themselves with their front paws, which is just crazy.
It is hard being a prey animal. Probably it is even harder for agoutis since they are so small. Plus they can't jump into the water for safety.
Hey, did you notice the little pointy tail on that last photo? Capybaras have an even more useless tail. It isn't even as big as that. Melly says that Caplin Rous' tail just fell off one day and he never even noticed it.
Apparently even though they are not swimmers, agoutis don't mind getting their paws wet.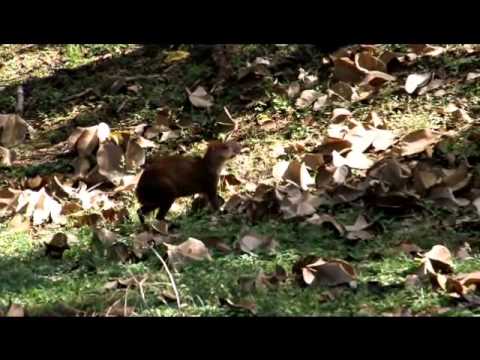 A short video of wild agoutis in Panama