Have you ever had a birthday where you got a present that was so unexpected and so confusing that you just didn't know what to do? That's what happened to me. Last Sunday was my very, very, super special second birthday and instead of getting corn, I got chickens!
Peeps are a little like chickens only not so noisy, despite the name. My very excellent Facebook friend Chanda Bellick sent me a box of peeps along with some rubber chickens that light up and a plush chicken that I am planning on eating. All that is very nice. My friend Dobby sent me some delicious Timothy hay and a big ball for biting. Those are great gifts. They are gifts a capybara can understand and appreciate. But Melly gave me actual chickens!
See that photo? That is me with one of my first two chickens. These ones are Barnevelders. They are very cute but very small. Melly says they will grow and then I will be able to chase them around.
Melly let them run around on the front porch with me so we could get acquainted. Maybe we could do that someplace besides on top of the delicious hay Dobby gave me?
I find the little chicks strange and confusing. Are they even eating my hay? What are they doing sitting on it like that?
As you can see, I was very polite when I asked them to move. Just a gentle nudge with the nose. One went right, one went left.
But before I even knew what happened, they were reunited and back on the hay! I'd say chickens are pretty smart birds!
But then Maple got involved and those two little chicks were no match for her. In fact, I think Maple could seriously give my cat friend Flopsy some hunting lessons. She got those chicks off the hay in nothing flat!
In the photo above, Thrifty is the chicken in the front and Cheap is the one in the back. Notice that neither one of them is on the hay. Maple, you are an inspiration!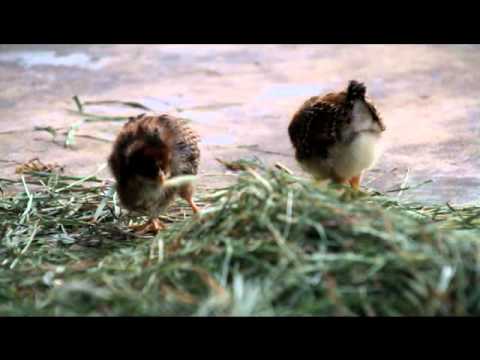 Watch the video to see Maple's excellent chicken herding skills.
Okay, I know what you're thinking, aren't there three chickens in that photo? Yes, there are. Today Melly came home with two more chickens! She says she always intended to give me four. That makes no sense (like chickens make any sense anyway), because I am two. I am two, I get two chickens. That makes sense. I am two, I get four chickens. That makes no sense.
Fire Sale is a Rhode Island Red chicken. She's pretty cute but very small. I could crush her with one toe.
Bargain is a dark Brahma chicken. She has feathers on her legs which is just too confusing.
I think I will learn to love my chickens, especially if they will climb onto my back or scratch my belly. Melly seems to think they will do that when they get older. Right now they are living in a small cage in the house but Melly bought a chicken coop from My Pet Chicken and she is going to put it together this weekend. Good luck with that! Glad my capy paws mean I can't be called on to help.
Those rabbits are natural born chicken herders. Even Oakley can keep them off the hay. The only problem is, now Oakley is on it! I am not certain how this chicken thing is going to work out. I will keep you posted.