Well, this is embarrassing. Smelly (she deserves that name!) says that people are always asking about my bathroom habits. What is up with that? I don't ask about theirs. It is rude, that's what. Rude, plain and simple.
But, if you must know, yes, I am "house trained." I can't use the human toilet because it is too high and I couldn't get my feet into it without falling completely in. Humans are omnivores and, believe me, you don't want to fall into their toilets! Herbivores, like us capybaras, are so much cleaner. Anyway, I always defecate and/or urinate in my special toilet bowl in the guest bathroom. The photo above immodestly shows me doing it. If that isn't bad enough, Smelly has posted a video of me on YouTube.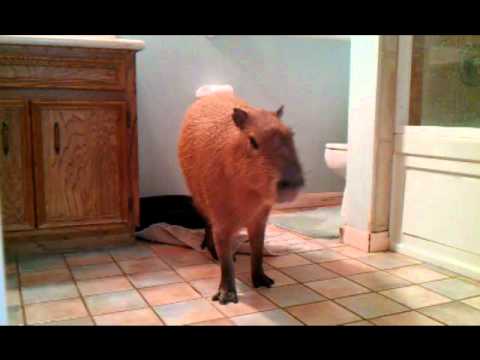 It is rude of you to watch this video.
Not all capybaras are as fastidious as I am. Caplin Rous always went to the bathroom in the water but he would use any water he found including bowls outside and even, sometimes, the swimming pool! (Finally there is one way I am better than Caplin. It's been a long time coming.) Dobby (aka Dobbye) Winnick poops all over the place. Stacy says he is making statements when he poops in his milk bowl or on her shoe or whatever. (Actually, that last was my guinea pig friend, Alfalfa. He has his own blog here. But you get the idea.)
So now you know, but I'd prefer you keep it to yourselves.
Don't forget to take the poll on the right side bar!