I've been having some pretty big adventures lately, filming for My Crazy Obsession and visiting Cedar Creek Elementary School, for example. But Friday, May 11th was bigger than either of those. It was kind of like those two days combined because I was filming for a British TV show called My Giant Pet and I went to a charity fund raiser called Kiss the Critter. Big adventures are big trouble, if you ask me.
It's hard enough to do all that but just imagine doing that and having a house guest! That's what happened to me. In the photo above you can see Richard, the camera guy from Channel 5 (actually he was the whole film crew) and Flopsy, my friend cat who belongs to Melly's daughter, Coral. Flospy was all about, "Why don't you film me? Do you see how soft and luxuriousness my fur is?" (Cats are all like that, not just Flopsy.) But he was constantly getting in my shot! (Did you notice Richard's colorful socks?)
Flopsy's hopes for a TV career were dashed when he wasn't allowed to join us on the car ride up to the Kiss the Critter event. I wish he had gone instead of me. I don't like going places in the car. Melly says I am getting better but it is still a very scary experience for me. I think Floppers is better in cars than I am.
It took about an hour to drive to the Kiss the Critter event. You know that is a long way because Sheldon was driving and he goes waaaay too fast. His turns knocked me off my little capy feet more than once. Richard sat in the front passenger seat and asked Melly and me questions. Melly sat in the back with me and fed me treats.
The night before there was a humongous thunderstorm at our house, we got over three inches of (much needed) rain. An amazing amount of thunder and lightning shattered our not-so-dark and not-at-all quiet night. Since Richard (the camera guy) was from London, he wasn't used to our storms. Frankly, I'm not used to them either. But the main worry was that it would be pouring down rain during my guest appearance. Luckily, the clouds parted and the weather turned out to be beautiful. Luck of the capybara.
The sun peeking through the clouds really set off the red highlights in my fur. And I wore my fire bandanna again, just to make a point.
I guess it's time to explain Kiss the Critter. It is a charity event put on by a company called URS in Austin. Every year they have a donation drive to raise money for the United Way. The employees of the company donate money in the name of another employee. The employee who gets the most money donated in his or her name, wins and gets to kiss the critter. Last year the critter was a big iguana. Nice, but no capybara. This year they raised nearly $1000 in donations. I'll bet that iguana did not raise so much!
Melly gave a little talk about me before the kissing started. It wasn't a very long talk, not like at the elementary school, because adults are not as smart as kids. I demonstrated how I mark Melly as mine by rubbing my morillo on her. I knew I had to do that or one of these people might walk off with her.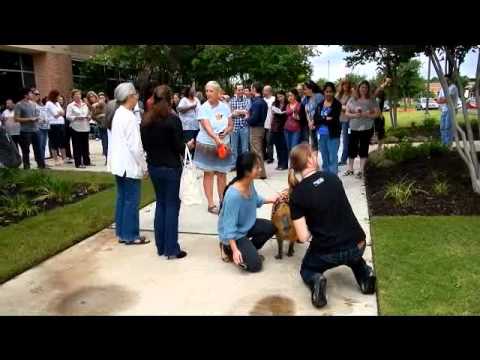 The critter getting kissed
If you want to see the actual kissing, you are going to have to view the YouTube link above. It's well worth the 2:45 minutes it takes to view it. Of course, if you are in the UK, you should be able to see much better video when My Giant Pet airs. (I do not know yet when that will be.)
I always enjoy meeting my stalkers…er, fans. At this event I got to meet Joe Robertson. He was very nice and he even took home a Super Capy plush. I am sure that Super Capy is going to have a fun and exciting life with Joe and his wife. His wife is also a fan but she couldn't make it for some reason. That makes me sad. I hope I'll get to meet her later. Maybe at my house where things are not so scary.
Melly and Sheldon's friend and co-worker, Claudia Ayala, showed up just at the end. Claudia is not really a stalker though, she's just a friend. One time she brought Melly back a children's book featuring a capybara from Colombia, so you know she is okay.
Richard wanted his photo taken with me too. He was nice and all but how many of these photos do you expect me to sit still for? Anyway, I bet Sheldon got a cute photo of me on Richard's lap.
Finally, I had my picture taken with the organizers. I just wanted to get home. Melly handed my leash off to her friend, Kent and I thought I could just drag him around. He is stronger than he looks though.
When Ashutosh (aka Osh Gosh) took over, I knew I could get my way. Apparently he's been "working out." I'm not sure what that means but it doesn't mean getting stronger than a capybara.
When we got home, I got to go swimming in Capybara Creek. This is about my favorite thing ever. Of course, Richard was still filming me. Melly got this idea that I didn't need to wear my leash. She said I was tired and probably wouldn't stay in the water long. When she was removing the leash though, I managed to shed my outer harness. Do you see how free and comfortable I look in the above photo? Why would they think I would ever come out?
It is amazing how even a small stretch of water can completely stymie humans. Sheldon was helpless to catch me as long as I left like six inches of water between me and the bank. And I had no intention of getting out. Ever.
Eventually Melly had to come in after me. She got her clothes all wet, which was hilarious. I still wasn't easy to catch, even though my inner harness has a handle. That was probably the longest swim and most fun time I have ever had.
All days eventually come to an end. I spent the final hours of mine relaxing on the couch. I look good on the couch. I never noticed before that my fur is the same color as wood. It even has the same grain.
If you want to read about what happened the next day, read my post on Capybara Training Part 1.
I'll be posting on the blog and on Facebook when I know a date for My Giant Pet. If you want to make sure you don't miss it, or any of my blog posts, use the form in the right side panel to subscribe to my blog.