I know I am a Capybara Ambassador (Capybassador)(in training) but I don't know why that means I have to leave the comfort of my own home. Can't I do everything through social media and TV? (More on that in my next blog post!) But no, Melly is all, "Sure, Gari would love to come visit your school!" I'm not saying I don't want to visit, just that I'm scared.
One of the things I really don't like about going places is my harnesses. I don't like getting them on and I don't like wearing them. To add insult to injury, Smelly has now decided that I need to wear a bandanna along with my harnesses. Sure, the bandanna shows off the fire in my eyes, but I wouldn't have any fire in my eyes without those stupid harnesses. I'm just lucky Melly only makes me wear two!
Car rides are also scary, especially when Sheldon drives. I think he goes too fast. The wheels practically come off the ground when he takes a corner! Do you see how blurry things are out the front window in the photo above? The world is not supposed to blur like that. It is unnatural.
Seriously, you cannot blame me for how dirty the car is. Let's just say that I don't think Smelly has ever cleaned it. At least not since I've known her. My paws, my teeth and my treats have nothing to do with it.
In the above photo we had just arrived at the school. I thought maybe we could just turn around and go home if I stayed in the car but Melly wasn't having any of it.
I followed Sheldon into the school with Melly picking up the rear. It actually looked pretty nice from the outside.
Sheldon does not know how to wear his shoes. The ones he has on in the photo above are not slip-ons. They have a back part that he is pushing down with his heel because he is too lazy to put them on right. I'm glad I don't have to wear shoes.
Once inside I followed a person named Gail down to where I was to meet the kids. The school was nice and clean and the walk wasn't too far. Only a few people stopped to marvel at me.
I got there before the kids so I had a chance to check the place out. Melly brought me a towel from home but I didn't need it. Anyway, I would have rather had one of my beds.
Soon the kids came filing in and plopped themselves down on the floor. Once they had settled down, Melly started talking. Oh my gosh! I never realized what a talker she is! Or maybe she just talks a lot when she is talking about me. Actually, I think that's it. She knows a lot about me and about other capybaras so she's got a bunch of material to cover. These kids knew a tremendous amount too! Melly was shocked when they knew the words amphibian and incisors. Two good words. I'm not an amphibian but I am amphibious and I have great big rodent incisors. Even though Melly told the kids that my teeth are razor sharp, no one was too afraid to pet me.
Did you notice that Melly is wearing a tshirt with my photo on it? Normally she wears her 3-Capybaras shirt but I am proud that she finally wore one of me.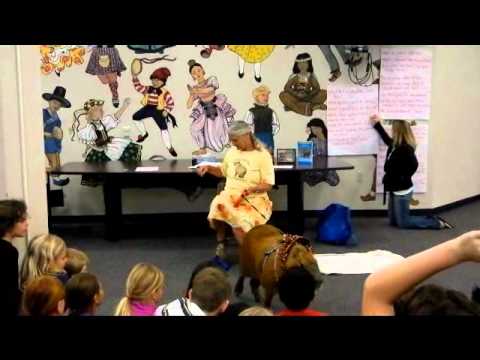 Me and Melly teaching kids about capybaras
That is kind of a long video but if you watch the whole thing I think you will be surprised at how well I did. Sure I was sweating a bit. Let's say it was hot in there, not that I was nervous. But look how I let all the kids pet me without even thinking about biting any of them! In fact, all eighty kids got to pet me!
All too soon our school visit was over. I think I might be up to doing it again sometime. Not soon, but sometime.
When we got outside, I realized it had rained. There were some very appealing puddles but Melly would not let me go roll in them. Why don't we ever do what I want to do? Well, such is the life of a Capybassador (in training).