I am not big on running but Melly is big on photographing me running. It's one of our many conflicts. You can see in the photo above that I am not easy to photograph when I am going fast. I tend to blur due to my great speed! (Just kidding!) I am much better at sleeping, but we'll get to that in my next post.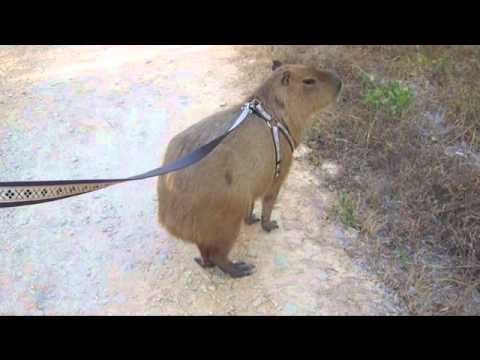 Video of me running.
But Melly has been making a real effort to capture a non-blurry image of me at full speed. See what you think.
I have to admit that most of those were taken with her little point-and-shoot underwater camera. Her DSLR camera that she usually hounds me with has been in the shop most of the past two months.
That's a pretty cute photo of me. If only I had a Super Capy Cape! (And if only I would be willing to wear it!) I think I look like I am flying!
I don't think I usually run with my tongue sticking out but unless Melly get some more non-blurry photos, we will never know. I should be humiliated by this photo but instead I am just proud of how cute my tongue is.
You may notice that in most of these photos I am wet. That is because I usually run to the house when I get out of the pool and so Melly knows to lie in wait for me with her camera. I run around the house too, though. When no one will pay attention to me, I run up and down the hallway and roar. This Melly will never catch on film because the minute she pays attention to me, I stop doing it.
——————————————————————-
Addendum:
Melly got one more photo of me running, this time a side view which the little camera can handle better.
——————————————————————-
Addendum 2:
Melly got one more photo of me running!