I hate doors. Not just specific doors, although there are specific doors that I hate. For instance, I hate the door to my Rick's room. That is a door I especially hate. But I hate the whole idea of doors. The bad thing about doors is that they can close. And when doors close, that is to keep me from going someplace that I want to go. For instance, in the above photo, I want to go into my Rick's room. I'm not sure he is in there but if he is, I want to be in there too! And that door keeps me from even knowing!
A gate is a special kind of door that is especially annoying. For one thing, a gate is always closed and locked unless you have your harnesses on.  There is never free passage through a gate no matter how much you want to go to someplace on the other side. The place I want to go is Capybara Creek. There are many other places on the other side of that gate where I do not want to go, places I have to get in Melly's car to get to. For instance, the vet. I would just as soon the gate stay closed when Melly wants to take me to those places. But when I want to go to the creek, why is this gate closed?
This is a door at Coral and Flopsy's place. That door is always open, as far as I know. But it goes between two rooms where I do not want to be. Does it matter which room I am in? No! They are both bad places where I am scared. Even Flopsy looks scared and he lives there.
This photo was taken last winter. As you can see, the door to the outside is open but I haven't gone through it. Surprisingly, sometimes I want to go through a door and other times I don't! In this case, it was cold outside. I liked the gentle breeze wafting past me as the outside air came in to cool the house, but I wasn't sure I wanted to go all the way out in it. Seems hard to imagine, but it used to be cold outside! Melly says that will happen again but I doubt it.
Lately I have learned an amazing thing about doors–at least some doors. I can open some of them by myself! Still not the door to my Rick's room or the gate, which is disappointing, but I can now open the front door and the back door!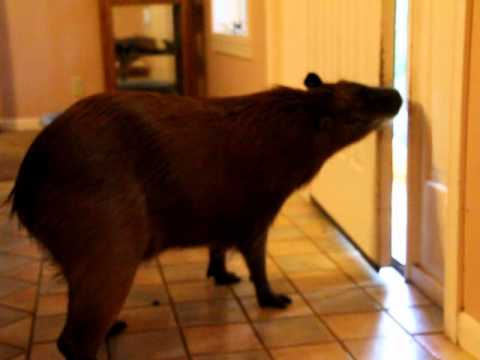 Video of me opening doors
As you can see from the video, I am quite adept at it! I mostly come and go as I please now. Not that I'm bragging or anything, but that is a pretty neat trick. I am working on figuring out how to open the gate and I'll let you know how that goes.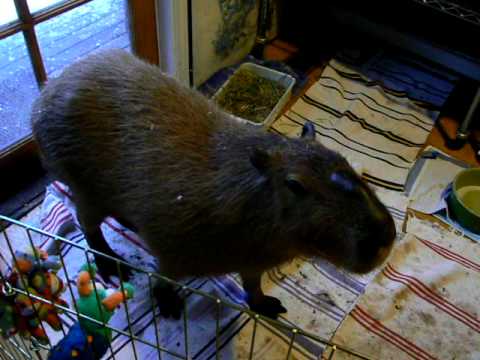 Video of Dobby opening a door
I have to admit that I am not the only capybara who can open doors, Dobby can do it too. And he even has his own doorknob. I don't think Melly will ever get me my own doorknob. Maybe for my birthday but that's a long time from now.