Owner's blog:
I don't think I have ever featured capybara poop as the opening photo of a blog post but this is a momentous occasion and cause for great joy and celebration! After three days, Garibaldi finally pooped! It's not the explosion of poop that might have been anticipated but it absolutely means his digestive tract is still functioning. What a tremendous relief!
The day started off on a positive note, Gari was much more active and displaying more of his typical behaviors. We rigged a hose from the tap for the hot water for the washing machine and used it to turn his little green wading pool into a warm water bath. Many of his readers had suggested a warm bath and it seemed like a really good idea. He took right too it and started doing his characteristic rolls. It was so nice to see him happy again.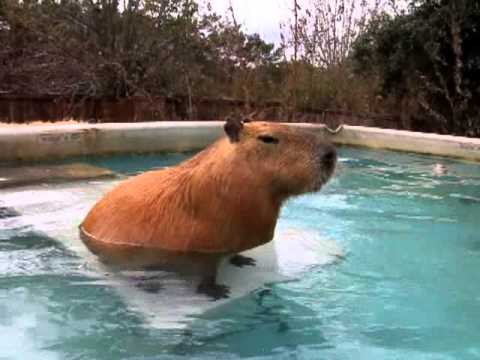 Gari playing in the pool
Still the day dragged on with no poop forthcoming.
Later Gari even braved the cold water of his big pool and was pretty much his normal, playful self. He hadn't gone swimming in the past few days so this was a really good sign. He loves it when Rick throws him back.
Around 6:00 pm is when the momentous pooping event took place. After that he felt well enough to chase Maple WoMER. Apparently one eye is enough to allow her to easily avoid Gari.
I don't want to give anyone a false sense of hope, Garibaldi's situation is still very grave. The surgery on his teeth will be much more traumatic than anything he has gone through so far. But at least he is happy now. All we can do is hope for the best.
More good news is that Winston Bumblebee Barcode the First had his new pet checkup today and he passed with flying colors. Of special interest is that the vet said his teeth look perfect. And everyone at the office loved both him and his name. Well, who could not love that nose?