Owner's blog:
This blog post is going to cover the dark side of pet capybaras. You knew that all that cuteness had to be balanced with a touch of danger, didn't you?
Capybaras are herd animals. This makes them experts at recognizing other members of their band (that's what a herd of capybaras is called). They are also very good at communicating with each other, as you can tell from their wide repertoire of vocalizations. But it also means that they have a dominance hierarchy and that most young males are expelled from the band to live lonely, and probably short, lives on their own.
This instinctive imperative is still present in captive capybaras who are at most only a few generations removed from nature, red in tooth and claw. In the photo above, you can see Caplin Rous snarling at someone. While Caplin was typically the sweetest, most patient and loving animal in the world, he did have his quirks. One quirk was that he hated both of my (adult) children, especially Philip.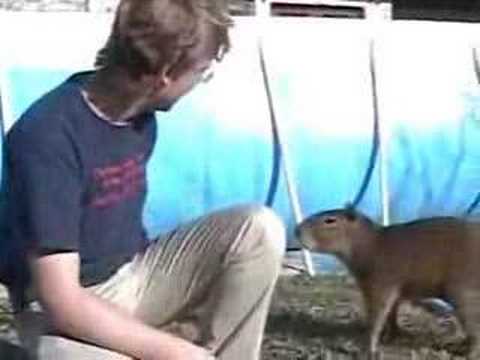 Caplin was about six months old when he first displayed aggression
In the video above, you can see the first time Caplin ever displayed any aggressive behavior. You can see that he is circling, which at the time I thought was just curious but which is actually very aggressive. When he circled, he was looking for an opportunity to lunge in for a bite. The second aggressive behavior is clicking, which can be heard most clearly at about 1:50 in the video. Standing on the hind legs can also be aggressive. Because their mouths are underslung, capys cannot bite unless they get their head up. The fourth and last aggressive behavior shown in the video is actually attempting to bite. Philip's reaction was to give him a little whack in the side of the head. It turns out this is exactly the wrong thing to do. I learned the hard way that any kind of physical reprimand will only escalate the situation, capys do not back down.
One year later, Caplin is still aggressive toward Philip
This video was taken almost exactly a year later. Caplin is much larger and much more aggressive toward Philip. You can also see how Philip's behavior only makes things worse. I learned from this that it is just as hard to control a human's behavior as a capybara's.
In between these two videos, Caplin went through a phase where he was very aggressive toward me. This is documented in this blog post, When Capybaras Bite. Caplin and I slowly worked through this, generally by me backing down and being as non-aggressive as possible. For several months I had to watch him closely and sit down whenever he got agitated.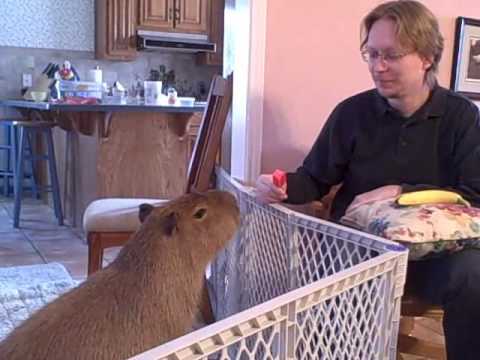 After 2.5 years, Caplin and Philip try to work things out
As you can see in the video above, after 2.5 years, Caplin still remembered that he hated Philip. In this video, Philip is making a more sincere effort at establishing a friendship and I think Caplin is too. But some of Philip's movements are still too quick and his language is a bit too loud. Using the barrier took away some of the stress and having Philip sit down helped a lot. As I said above, capys stand on their hind legs to attack so a person standing can be interpreted as a threat posture. I think that if we had done more of this, Caplin would eventually have come to accept Philip.
The reason I am posting about this now is that another capybara owner is faced with a similar problem. His 6-month-old capy named Romeo has just started to display aggressive behavior.
Romeo attacks!
I think Romeo's behavior is a lot like how Caplin reacted to me during his aggressive phase. It is so frustrating and heart breaking because you love your capy so much and then he suddenly turns on you. As you can see in this video, Romeo gets quite serious about attacking and then comes over and wants to be pet. That's exactly what Caplin did to me: I love you, but I want to kill you. But the good thing is that with love, patience and an understanding of capybara psychology, this can be overcome and the original loving relationship restored.
Neutering may help prevent or attenuate aggression in capybaras but then again, it may not. Caplin was still aggressive even after neutering.
Another thing about Caplin was that his aggression was clearly territorial, except toward Philip for whom he developed a special antagonism. When Caplin was away from our house, he never displayed any territorial behavior no matter how many people or other animals he encountered. At home, he was usually good with people for a few hours but the longer they stayed, the more annoyed he became with them. He did not want people to stay the night or to come over two days in a row.
Also, I recently learned of a case where a young male capybara attacked a dog co-pet and did serious damage to where the dog required surgery. This was probably territorial behavior. That is the only instance of aggression I have heard of from a capybara toward another pet other than a capybara.
Not all males go through this, Garibaldi Rous has never been the least bit aggressive. And I haven't heard of a female capy becoming really aggressive, but that's not to say it couldn't happen.
So think long and hard if you're considering a pet capybara.