Owner's blog:
If  you're getting tired of these posts about Garibaldi Rous' trips to the vet, you can just imagine how we feel. I hate taking him because it is so stressful for him. The good news is, this may be the last such post for a little while.
It has been just under six weeks since Garibaldi last went to the vet to get his teeth trimmed. That trimming was still pretty major, with a big chunk of the bad tooth having to be filed off. Also, he lost part of one of his upper molars. But by the end of the visit, all of his teeth were trimmed down and in good shape. This visit was earlier than we would have liked but Rick and I both have trips coming up and we didn't want Gari to have a tooth emergency when we weren't both around.
With the frequency of our visits, we're getting a method down for dealing with Gari and his teeth. One of the most stressful parts is giving him his initial shot of anesthetic. We've tried various methods and harpooning seems to be the best for Gari. He will not sit still if he thinks a shot is coming and, even with someone restraining him, he has leaped forward and injured his nose or knocked into people and equipment when the shot is delivered by hand.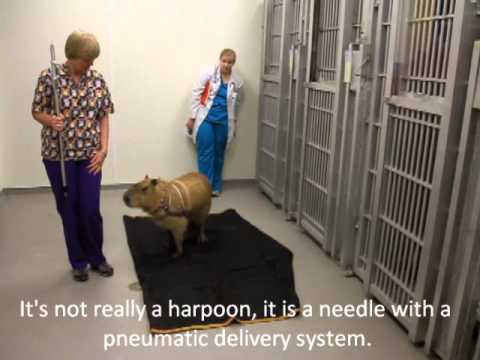 Getting a shot
This works pretty well, I'm not sure he even associates the vet with the jab to his butt. It does look like it hurts quite a lot though.
This was the first time he bled from getting the shot. It seemed like a clean hit into muscle but the harpoon is not exact.
Some blood got onto the mat and I noticed it looked very strange, not like blood at all. I showed this to Dr. Hoppes and her only explanation was that the blood interacted with the anesthetic in some way that caused it to clot super fast. I'm not personally convinced. Capybaras are unique in so many ways, I wonder if their blood just clots weirdly. When Gari ripped off the pad of his paw, that hardly bled at all.
The tooth exam and filing went very well. Dr. Hoppes said the bad tooth had hardly grown at all. The broken molar is growing back nicely. All of his teeth were examined and filed if needed to be sure he didn't have any new points. Then he was done. This is the best news we've had since this whole thing started. It looks like Gari won't need to go back for another three months! We'll be watching him closely for any signs of distress. Keep your fingers and paws crossed!
Of course there is bad news to go with the good. Dr. Hoppes had a chance to compare Gari's dental x-rays with that of another capybara and there are significant differences. The bones of Gari's head, including those around his teeth, are much less dense than those of the other capy. Apparently, this is what is causing his tooth problems. His bones are just not dense enough to hold his teeth in place. This is probably because of his lack of exposure to sunlight and poor diet before I got him. We're going to see what we can do to increase his bone density but he is an adult capybara now and this is not a period for normal bone growth.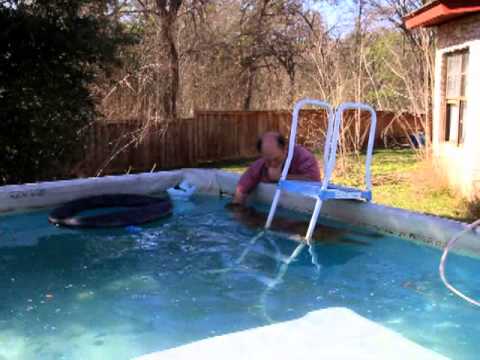 Recovering
I'm including this video to show what it is like after we get Gari home. It takes him a long time, days, to recover from the effects of the anesthesia. I'm not sure how much of his lack of flexibility and motor control is due to pain and how much is due to the drug. Either way, he is miserable. Luckily, with this short visit, he recovered much more quickly and today, three days after the procedure, he is almost back to normal.