Owner's blog:
It is always hard to say goodbye to a beloved pet, but it is never harder than when the pet is a capybara. Every single capybara is a unique and wonderful creature whose demanding love forever changes those around them. Rocco is a special story though because, unlike every other capy I have blogged about, Rocco was born wild. His is a hard story, but it needs to be told.
The photo above shows the world into which Rocco was born. The idyllic "wild" that I hear so much about. So how did he come to be a pet? I will let Marta tell the story, but it is in Spanish so I will provide a translation just below.
==============================================
Como llegó Rocco a mi vida.
Mi esposo va todos los fines de semana al campo de mis suegros, a veces visita campos vecinos por temas laborales. Un día ingresa a un campo y al llegar a la casa del peón, ve que habían matado a un carpincho, le estaban abriendo su panza, era una hembra y dentro de su vientre habían 4 bebes carpinchos, 3 de ellos ya estaban muertos y Rocco agonizaba. Hernán ( mi esposo ) al ver tal crueldad me llama desde su celular y me cuenta lo sucedido, me puse a llorar y le pedí por favor que trataran de resucitarlo y que me lo trajera que yo lo iba a criar.

Así llegó Rocco a mi vida.
Una semana antes de que mataran a la mamá de Rocco, habían matado al papá Carpincho.

How Rocco came into my life
Every weekend, my husband goes to his parent's house in the country. At times, he visits his neighbors to do some work. One day he arrived at the house to find that they had killed a capybara and were cutting it open. It was a female with four babies inside her. Three were already dead, and Rocco just barely alive. Hernán, my husband, seeing this cruelty, called me on his cell phone and told me what was happening. I began to cry and begged him to try to revive him so that I could raise him.
And so Rocco came into my life.
One week before they killed Rocco's mother, they killed his father.
==========================================================
I am going to put the photos of Rocco's father at the bottom of the post and I will put a warning and some blank lines before you reach them.
As you can see, Rocco had a very hard start to life. Luckily Hernán was there to save him and Marta to love him and to raise him. In the photo above, you can see that he was just as spoiled as every pet capybara.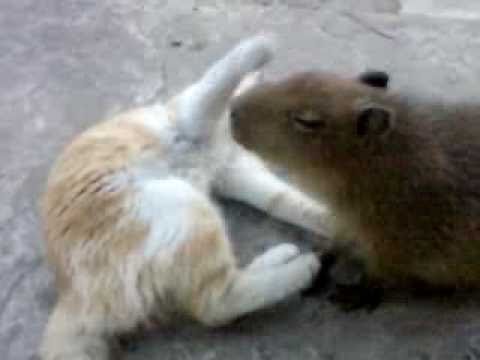 Rocco pestering Naranjita
The video above is a cute sequence of baby Rocco bothering his cat co-pet, Naranjita. What personality he had!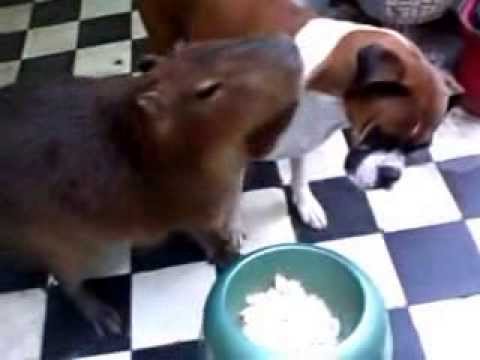 Baby Rocco playing with Brissa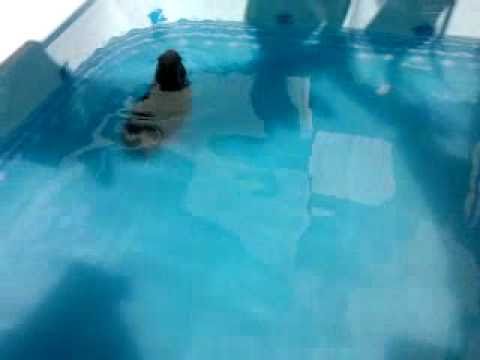 A young Rocco swimming in a pool
Rocco had a lot of co-pets and seemed to get along with all of them. A wonderful life for a capybara snatched from his mother's womb.
Rocco lived to be 2.5 years old and apparently died of gastroenteritis. Marta took him to the vet but, even though she lives in Argentina, no one knew how to treat him or what medicine to give him.
I am sure Marta would appreciate any kind comments you would like to leave her. You can also follow the video links to her YouTube and leave comments there if you would like.
One last photo of Rocco and then I will post the photos of his father. I believe this photo was taken while Rocco was sick.
You will be missed, little Rocco, and you will be remembered.
This is what happened to both of Rocco's parents, his mother despite that fact that she was carrying four nearly full term infants. Next time someone says Garibaldi Rous would be better off in the wild, I am going to force them to look at these images.
—————————————————————
I decided to move the graphic images to a private post so that no one will accidentally view them. Click on The Birth of Rocco to see more images and read a little more of Rocco's story. The password is Carpincho.
—————————————————————