Melly's Blog:
Today is Caplin Day. On this day, July 10th, in 2007 Caplin Rous was born in Nacogdoches, Texas. I didn't know it, but the birth of that tiny capybara would change my life. He changed other people's lives too, teaching people around the world about the intelligent and affectionate nature of capybaras. When I lost him on January 4th, 2011, I lost a huge part of myself.
Caplin Rous also touched Garibaldi Rous' life in a big way. Little Garibaldi was only nine months old when Caplin died, but he was already looking for a new home. Garibaldi has taught me that capybaras are as unique as people. Each capy has his own personality, his own distinct way of interacting with the world. For instance, Caplin's two favorite foods, popsicles and yogurt really don't make it onto Gari's food list at all. And while Gari is a rolling maniac, Caplin panicked each of the three times he inadvertently rolled all the way over.
Caplin Day is a day not just for remembering Caplin Rous and celebrating his life, it is also for all of the pet capybaras lost over the years. Caplin Rous is a stand in for all of them, so we celebrate by eating popsicles and yogurt or, preferably, yogurt popsicles.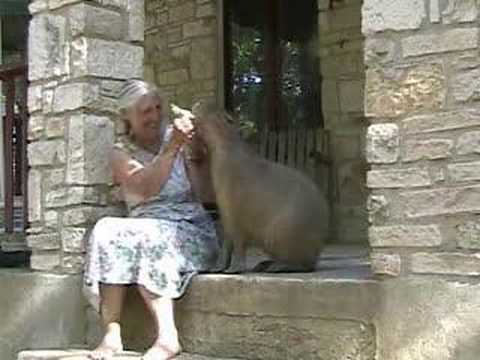 Caplin Rous begs for a popsicle
It looks like there is hope for Garibaldi yet. He seems to enjoy these blueberry yogurt popsicles that I found at grocery store. We always had to make our own for Caplin.
I don't know if capybaras get ice cream headaches. It never bothered Caplin, but Gari takes small bites just in case.
It is really hot here today, so a 2nd popsicle seemed like a good idea, even when sitting in the pool.
As I said, it was plenty hot and that was a big popsicle. I'm sure he didn't mind sharing. He shares with the rabbits, chickens, tortoises and squirrels all the time, he can share with me once in a while. Anyway, I'm the one who provided the popsicle.
In loving memory of:
Caplin Rous
Bonnie
Buela Belle
Captain
Chompers
Chewie
Dharma
Doodle
Houston
Little
Penelope
Rocco
Shaboodle
Templeton
Toby
Willy
Send your Caplin Day photos to caplinrous@gmail.com and I will post them here!