It did a strange thing at my house this week…it RAINED! Rain is when water falls out of the sky. I think it might have to be cloudy and noisy too with flashes of bright light. But the main thing is the water. It falls everywhere, even on a capybara if he is sitting outside. But not on a Melly. A Melly says she will not go for a walk while it is raining.
One good thing about rain is that it makes MUD and mud is about my favorite thing in the whole world next to my Rick and corn on the cob. And swimming. And sleeping. Anyway, mud is pretty good stuff. Surprisingly, not all mud is created equal and the very best mud is not in my yard, it is down in the creek. But only after it rains. To get down to the creek, I need for Smelly to take me for a walk.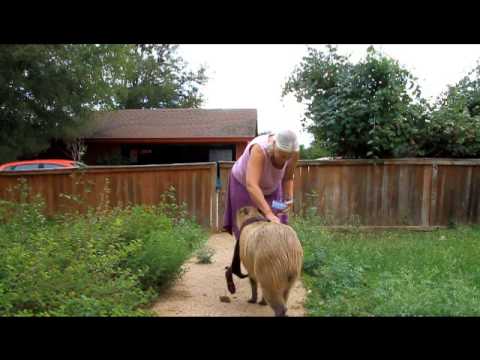 Harnessing the Capybara
In case you haven't seen me getting harnessed for my walk, the above video shows how good I am about it. I used to hate getting my harness on but now I don't even remember why.
Once I get my harness on, I need my leash. I have a long leash that wraps up in a blue spool. I LOVE to rub my nose on that thing. I spend about half my walk time doing this. Melly gets impatient with me sometimes but she just doesn't get how important it is. I don't want anyone else stealing my leash!
Do not send to ask for whom the capybara rolls, I roll for me!
Maybe I should keep my mouth closed while I am rolling. Oh, what the heck, mud tastes good!
I have to keep my eye on Melly least she walk off. Someone is supposed to be watching for jaguars and that is her job!
Underneath all of that glorious mud, it is still cute little me.
The best type of mud does not shake off easily. You can see that this was pretty high quality stuff.
My rolling superpower is perfect for distributing mud across the whole surface of my body. Still, it sometimes clumps on my head.
I don't know why Melly won't hug me or scratch me when I am muddy. I know some of my mud might come off if she does, but I am willing to share.
Even if Melly won't hug me, I MUST rub my nose on my leash. I have to do that at least every few minutes, and yet Melly acts like it's some big sacrifice on her part to let me do it. Humans are incomprehensible.
After rolling, I went to the back pasture to graze on my favorite grass. All in all, it was a good day.