I hope everyone is enjoying the holidays and not getting too much snow or cold weather (for those in the northern hemisphere) or too much heat (for those in the southern hemisphere). It has been pretty nice here, a bit cold but not too bad. Today it is mid 60s F so I've been outside a lot.
Does anyone remember my blog post about Super Capy in Tatarstan?  Well, he sent me a cute cap to match the one he has! This is the traditional headwear for that part of the world where it is worn mainly by humans. I think it looks excellent on either a Super Capy or a real capy, such as myself. What do y'all say? (And thanks to Rawil Fakhrullin for helping get it to me!)
One funny thing is that while Melly was in the rehabilitation hospital for her stroke, one of her nurses was a man named Vlad who was from guess where? Yes! You got it! From Tatarstan! He was so excited when Melly showed him the Super Capy post. I think he misses his homeland.
I guess everyone knows that I have three rat co-pets named Fresno, Paca and Agouti. Well, since I haven't been feeling well, Melly let Fresno and Paca come out and spend some time on the window seat to cheer me up. She would have let Agouti out too but he is a little shy.
I love all of my little co-pets (and even the horses although they are big), but I especially like the rats because they will climb on me. In the wild, birds sit on capybaras all the time and eat the parasites that bother them. Rats don't do any parasite eating but their sharp little claws feel about the same as bird feet. Anyway, you can see how much I like it by how poofy my fur is.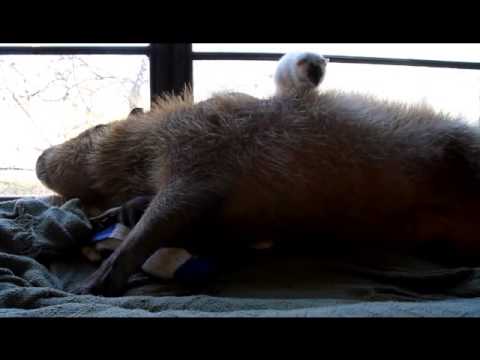 Video of my rat interaction