Melly's blog:
Earlier this week I got the most interesting email from a man who works at a zoo in Slovenia. I'm including the email here so you can enjoy it as much as I did. ( I have made a few minor corrections to make it easier to read.)
My name is Simon and I love capybaras. I would really love to have capybara as a pet but I can´t, because I live in a block of flats. But I am currently employed in ZOO Ljubljana (Slovenia (Europe)) and somehow my dream fulfilled in a way.
There is one very special being, called Stinky.
I love Stinky so much that I am with him every and each day. It´s not my capybara, it´s ZOO ljubljana capybara but he is mine in my heart.
And if I tell you that we train agility, I´m sure you sure won´t believe me. We train approximately 1,6 year (in my free time) I started training him when he was basically adult animal (not juvenile).
I couldn't publish anything earlier because he is not my capybara.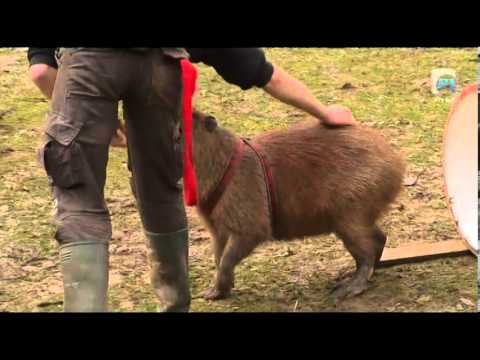 The part with Stinky starts at 15:28.
I really hope you will enjoy the video.
Regards and all the best,
Simon Budja
I hope all of my readers will follow the link! You'll be amazed at what Stinky can do! He is quite a capybara. This has also given me some ideas on things to train Garibaldi Rous to do. Right now we are working on picking up a stick in his mouth and that is slow gowing, but afterward I think Gari would look cute on that seesaw ramp!
After I had watched the video ten or fifteen time (or maybe thirty, but who's counting?), I wrote back to Simon to ask him some things about Stinky. Below is his reply. (Again, I have edited it slightly to improve readability but I have not changed the content.)
First of all I´m sorry for my bad English but I´ll give a try.
Stinky is 2 years 10 months and 10 days old (his birthday is on 26th march 2011).  I came to the zoo on 3 April, 2012 and immediately fell in love with him. I didn't give him his name. He got that name because his mother didn't want to take care of him (often occurrence in wild), so they brought Stinky up on the bottle. Yes,  he is neutered. About his size, he is small because he was withered. He was at least two time on the verge of death (they told me so).
About his name: they gave him that name because  while ´´feeding in the bottle period´´ he spent a lot of time in a cage. But every being kept in a cage gets smelly because of  urine.)  Otherwise of course, he doesn't smell. Maybe it would sound a little bit odd, but I like his scent (I´m sure you understand me).
After awhile they wanted to put him together with other capys but the others didn't accept him (and he didn't accept them either) so they made his home with the alpacas. When I came to the ZOO he was already there. No, visitors cannot touch him freely. but they can buy ticket for favorite animal. (but unfortunately capybaras are not very popular.)
For one year I was a volunteer (unemployed). Now they have employed me for one year. What will be after April, I don´t know. I love him so much, he means everything to me.
He has a little swimming pool (well, a basin filled with water). In the summer he spends a lot of time in the water (wallowing). It is so funny! Sometimes he runs and jumps in the water. Of course now when is cold, he doesn't like to swim. He would rather stay inside his very little house. When I say little it´s very small place filled with hay and straw. And he has heating light. Now when it is cold he goes very often on toilet in his little mansion, so I clean place three times a day.
One of the best things is when he goes to sleep he lies with his head in your palm and with your other hand you can stroke him. This is so priceless.  I take care of him. Every day I am with him. In the days, when I´m working, I am always with him before working time. when I have time for lunch I am with him. and after work. I train him in my free time, so what we do is not official.
I hate this time of year because days are so short and we both hate snow, hehe. Around his house the snow is already shoveled. now the field where we usual train needs to be shoveled.
In the spring/summer/autumn it was great to bring him a lot of fresh grass (he specially loves dandelions). Otherwise he gets pellets, vegetables (he specially likes bitter ones like chicory, endive,..) and very little fruit. I don´t  give him a lot of fruit, because I don't want him to get diabetes. He specially loves blueberries (Americans), mandarins, banana and of course apple for training.
Oh, and his fur in the summer is like reddish brown.
About training, i just started doing it. I took it very seriously. For me, capybaras are very, very intelligent animals. Training is the same as with dogs. We could do primary dog school.
In one day he got to know what clicker means. Even though I use the clicker all the time, we are able to do training without it. he knows the ˝order˝ (verbal command) for each trick. He is so smart! As a treat I use pieces of apple. I only trained our family dog. This is the only experience that  I have with animal training.
I manage to do all the obstacles in December, so now it can be said that we are doing agility. Before that we just did tricks: to sit, to lie down, to shake hands (Either one, you choose if you want left or right), to go around you (for example you can combine some tricks: like in dog school when you call him he comes and than you say to sit or to lie down and then go around. He can walk beside you and than to stop. He knows the meaning of the words beside and stop. He does eights (going in either direction), walking between legs, turning 360 degrees on rear foot, going backward on his back foot.Oh, we went once through the door that leads from the enclosure, but he didn't like it. It was like he came in the another world.Of course I have seen your movies on you tube, but I couldn't tell you anything sooner because you wouldn't have believe me. I couldn't  publish anything on my own before now that is published on internet. (he unfortunately is not my animal).I would really like to put video on you tube or whatever but I don´t have a clip. So I would be more than grateful if you could mention to  people that love capybaras, that capybaras are able to do agility. Thank you.

I often hear that capybaras are lazy and stupid and so one and one. I am so angry and sad because of that.
I wish that people would see capybaras as very inteligent, special beings not a meal on a plate. I am vegetarian by the way.
Stinky is the best that happened to me. I love him so much. Capybaras are the king of the animals. You sure understand me. I just wish to have him 24/7 by my side…nothing else, nothing else matters.
I would definitely like to stay in contact. Give a Garibaldi a huge hug.

Bye and all the best,
Simon