I'm just going to get this adorable lion cub photo out of the way by putting it at the top of this post. Remember that Wesley & Fiona live at the Wild Animal & Snake Farm Zoo so there are a lot of other animals there. The two white lion cubs get a whole lot of the attention that rightfully belongs to the capybaras, but what can you do when they insist on being so cute?
Look, Wesley can be just as cute as any lion cub! Rick and I brought back scratchers so that we can reach far enough into the pen to give the two capys a good scratch. As you can see, they like it.
And look how cute and friendly little Fiona has gotten! Here she is standing in her food bowl demanding more treats. I bet it's not so cute when a lion cub does that. Probably means they want to eat your hand!
They are both still pretty shy though. Here Jessica is trying to feed Wesley some apple and he's like, I'm not falling for that old trick!
People are always saying that all capybaras look alike. Well, it's just not true, at least for these two. Wesley and Fiona are as different in appearance as they are in personality, although still well within the "super cute" part of the scale.
One of the foods Rick and I introduced them to is corn-on-the-cob. They love it, as you can see by the above photo of Fiona. The way to a capybara's heart is through his/her stomach.
Here Fiona is trying to entice Wesley into a little swim. He's a bit too busy marking the entrance to their den with his morillo and can't be bothered. Now that I think of it, I have never seen Wesley swim yet, he's probably waiting for warmer weather.
Their pool has steps in it to provide them with different depths. This is nice but it doesn't leave a lot of room for active swimming.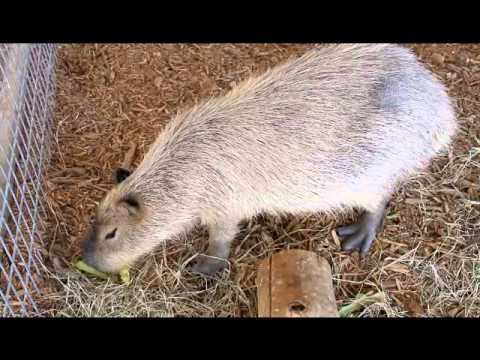 Wesley and Fiona
You can see in the video how much Fiona acts like Garibaldi. When she gets in the pool, she tries to roll. And when she gets out, she runs around the corner. That is absolutely, 100% Garibaldi Rous behavior.
By the end of our visits, the two capybaras are usually pretty tuckered out. The photo above shows Wesley after about an hour of excitement. You can tell he is *not* related to Garibaldi Rous because Gari always had a bit of an S-curve to his body when he was lying down. Not that Wesley isn't plenty cute just the way he is.