I'm starting this post with a cute photo of Prince Dobalob, aka Dobby(e) Winnick. Isn't he adorable? Well, get over it because the whole rest of this post is not going to be about Dobby at all, it's going to be about my journey to get to him. The journey starts in Buda, TX, detours through Los Angeles, and ends in Seattle with the famous capybara. This installment is about the LA section of the trip. I'd like to promise that it will be interesting, even though it is not about capybaras, but you will have to judge that for yourselves.
I went to LA for several reasons, one of which was to visit my sister, Sylvia. She lives in Long Beach, just a few miles from where we grew up in Harbor City. Above you can see a photo of the two of us at her favorite McDonald's. She spends a lot of time there because they have free internet.
You might also notice the weird things I have on my glasses, or you might be wondering why I am even wearing glasses because I never did before. That is all due to the brain hemorrhage I suffered in Oct. 2013 and the consequent damage to my right visual cortex that resulted in left homonymous hemianopsia.
The things in my glasses are called "Peli prisms." They bring light in from the left side over to the right where I can see it. I can't actually see out of the prisms but they give me a little warning of stuff moving over to the left. They also brighten the world considerably, diminishing the sensation that I am walking with my left arm against the side of a dark tunnel.
Every time Sylvia takes a photo, she insists on showing it to me. In the shot above, you can see me looking at a photo on her phone. Her phone doesn't work as a phone because she doesn't reliably pay her bill, but it does allow her to take photos and transfer them to the internet.
I didn't get much time with Sylvia, partly because it is exhausting dealing with her mental illness, but mostly because she wouldn't get in a car with my friend Carol. Since I can't drive anymore and Sylvia's car was not running (and, honestly, I wouldn't feel safe in a car she was driving), all we could do was hang out at the McDonald's. Not my idea of fun.
After we left Sylvia, my friends (Carol on the right and Paula on the left) and I went to the Queen Mary. It was Caplin Day, July 10, Caplin Rous' birthday, and we celebrated by eating popsicles. Caplin loved popsicles and I can hardly see one without thinking of him.
Above is a photo of Caplin Rous eating a popsicle. He loved them on a hot day.
The Queen Mary was pretty fun. I hadn't really been back there since I got married (the first time) in 1976. I had minimal trouble navigating through the narrow doors and stepping over the rims. The big problem came when we went on the "Ghosts and Legends" tour.
The Ghosts and Legends tour is just as hokey as you probably think, but we did get to go see some areas in the bottom of the ship that are otherwise inaccessible. The pool, way down in the bowels, was pretty cool. The problem, for me, is that to try to make things scary and spooky, they kept the lights dim and frequently flickering or flashing. After a while, this started to make me sick, a consequence of my visual processing difficulty, and I had to keep my eyes closed as much as possible.
When we got back topside, Carol bought me a banana split to make me feel better. It actually did! I thought it was pretty cute that they made it look like a ship. In case you're wondering, I ate the whole thing.
Several mornings Rick's mother, Saralyn (Sal), took me with her when she took her little poodle Levy for a walk. Usually this was down at the beach in Redondo Beach, a place I have much frequented over the years. Sometimes you can see dolphins there but I didn't see any on this trip.
Dogs aren't allowed on the beach itself, and Sal can't really walk as far or as fast as I can, so we visited a while at the dog park before splitting up. Sal and Levy walked the sidewalk at the top of the bluff while I walked down on the sand. Later we met up at the Redondo Beach peer.
Above is a photo taken from the beach looking back toward the area where Sal lives. As is typical, it was overcast in the morning but the weather cleared nicely by noon.
This high-stepping seagull reminded me a little of Garibaldi Rous. He often held up one paw like that. I guess he was gull-stepping.
Gari was cuter than any seagull.
Another thing we did was go look at some super cool model trains at the San Pedro model train club. They had a huge layout. You can see in the photo above that the person on skates serving the pick car actually moved. The whole thing was super fascinating.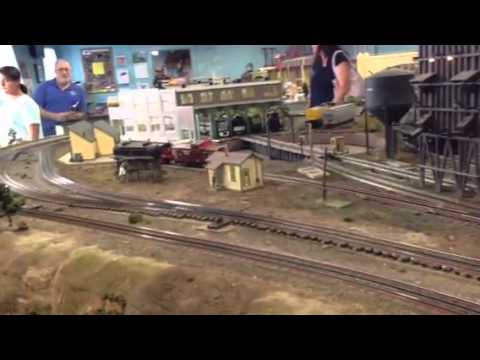 Model Trains
I should have known better than to stare at it for so long. Visual complexity of this magnitude really makes me sick now and right after taking the video we had to leave. I think the problem is that all that information gets dumped into a part of my brain that doesn't really work anymore. It's kind of like getting seasick.
These two dogs were one of the best things about my stay in the LA area. The white one is Ethan and the spotted one is Cooper. Carol and her husband, Mario, have been afraid to take them for walks because they are not well trained and they are very strong. They thought they might get pulled over or the dogs would get away or something.
I spent quite a bit of time with each of them getting them to walk calmly on the leash. By the end of my stay, Ethan pulled only a little and always stopped and sat down each time I stopped. I was able to walk him all around the neighborhood.
I didn't start on Cooper until later because I didn't think I'd have time to work with both dogs and Carol and Mario said Cooper was stronger and would be much harder. That was not true though. Oh, he might be stronger but he did not pull nearly as much. On the other hand, he didn't have the want-to-please attitude that Ethan had so he was a bit slower at learning. Nevertheless, he would walk easily on the leash and sit with only a light touch to his rump when I stopped by the time I left.
I really hope their family is keeping up with their training. These are two really sweet dogs. They really disprove the evil pit bull myth. In fact, if I ever get a dog, I think I will get a pit bull.