This whole Dobby trip is taking a long time to relate. I'd say it's about four times as long in blog posts as it was in real life! I guess that's just how big a star Dobby is. Today's post finishes up the whole adventure by covering his swimming pool exploits and the sudden deterioration of our relationship, as well as a bit of Seattle tourism.
Unlike Caplin and Garibaldi who were both always eager to hop in the pool if there was an audience, Dobby is a little shy. He swims more often on his own than when Stacy is watching. Both Caplin and Gari would swim on their own, but they preferred to have a human there to watch out for predators.
Dobby uses straw bales with rubber mats to climb into the pool. He also has a plastic pipe-wrapper along the rim of the pool because he is a serious pool menace.
He's not in any hurry to get in. Plus, the steps just might be slightly edible. High in fiber, which is good for capy digestion.
There's something especially cute about the crook of his neck as he takes a tentative bite of straw.
Several minutes later, we find Dobby perched at the pinnacle of his staw mountain. Will he go in or will he just pose for photos?
Stacy says Dobby is a donkey but I think he is more of a mule. He is the most stubborn capybara I have ever met.
In my experience, capys often take a drink before they dive. However, this was not the case with Dobby. After practically drinking the whole pool, he climbed back down without ever getting in. This was in spite of it being a very warm day for Seattle. You'd think Dobby would have taken advantage of the heat to get in some long swims!
Later we came outside to find him already in the pool, swimming his little capy heart out.
This was Garibaldi's favorite game, getting thrown over backward in the pool. Because Stacy can't get in the water with him, and she's very short, she isn't able to get enough leverage to really throw him back too far. He loves it anyway.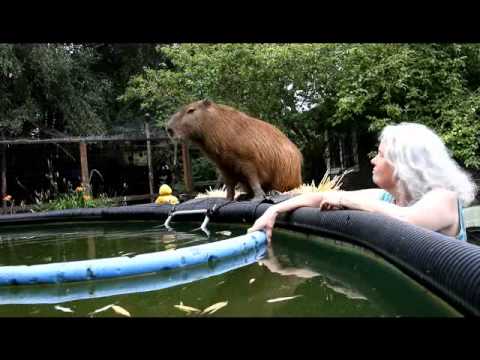 You Can Lead a Capybara to Water, But…
I got this video of Dobby's interaction with his pool. At the end, you can see Stacy throwing him back. He sure reminded me of Garibaldi then.
However, he also had elements of Caplin in him, they were brothers after all. One thing Dobby and Caplin have in common is that visitors are welcome only for a short period of time. Caplin was great with visitors as long as they didn't stay overnight. Dobby seems to be the same way. I stayed four days and that was clearly too long. On the last day, to ease tensions, Stacy and I did some touristy stuff in Seattle.
Given the weather in Seattle, Stacy does not often get to drive around town with the top down on her convertible. Luckily, I brought some Texas weather with me.
I am a huge fan of Frank Gehry, the architect who designed the EMP (Experience Music Project) building. It was not a disappointment! Having the Space Needle in the same location is also interesting.
The EMP also houses the Science Fiction Hall of Fame! That was really cool.
There was a lot of interesting stuff in there but most of it did not photograph well. Or maybe it's just my lousy vision. Anyhow, I thought Stacy looked funny going to warp speed.
As part of our fun adventure, Stacy and I had dunch (that's a combination of lunch and dinner) at the top of the Space Needle.
The food was actually very good and they had a nice wine selection. We took over an hour to dine so we made about 1.5 trips around the skyline.
The next day it was time for me to leave, which was just as well as Dobby was pretty angry by that time. He was generally okay with me as long as I was sitting down and acting passive but I'm sure he was thrilled when I left.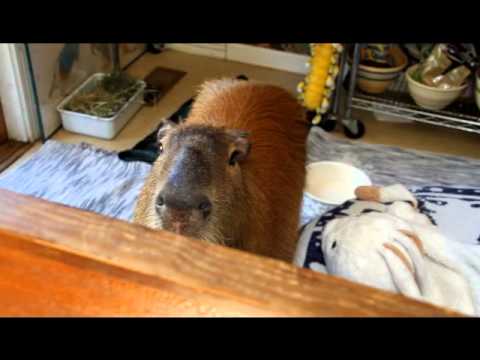 Dobby clicks me goodbye.
All in all, it was a pretty fun trip. I hope you have enjoyed hearing about it.