I'm starting out with my cutest photo. Look at little Wesley (left) and Fiona (right)! I think they misunderstood me. I was telling Wesley to put all four of his feet on the scale but they must have though I said "all forefeet on the scale," and so Fiona came over to do her part.
They have both come a long way on their weight training. Now the biggest problem is that Wesley will not let Fiona get on since he thinks the best treats come from scale sitting.
Fiona's best trick is still standing tall. She is excellent at it. Every time I turn around, there she is standing on her hind legs and looking for a treat. In this case she is getting a little slice of apple.
I don't know what treat Fiona is expecting in the photo above, but I am impressed with just how straight she is standing. At noon, she wouldn't even cast a shadow!
Wesley is learning to stand but it is taking him a lot longer. He does not seem to be as steady on his feet as Fiona is. Leaning on the fence helps.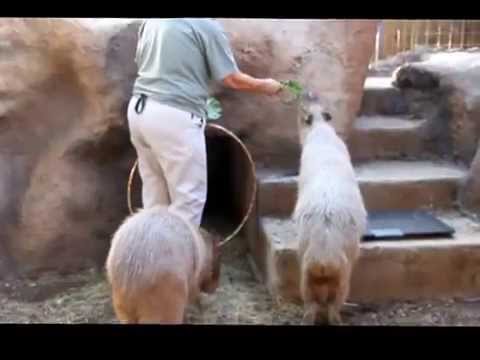 Training Capybaras video
As you can see in the video, work on the scale and with the hoop is going quite well. Both capys are much tamer now than when I started working with them a few months ago.
It's too bad their pool does not allow for easy viewing and really there is no decent angle for a photograph of them in the water. Fiona seems to swim much more than Wesley does. She is often wet when we come to visit her. The Snake Farm keepers say Wesley swims more in the afternoon but we always visit in the morning.
After their training, treats, and breakfast, it is always time for a nap in the sun for two tired capybaras. Fiona is in the back with Wesley in the front here.
The Animal World and Snake Farm Zoo, where these two live, is doing some major renovations. I'm hoping some of it will be noise reduction or maybe move the capys a little farther back, away from the road. The capys don't seem to mind but it would be nice to be able to hear their little voices.