I think I sometimes overlook Wesley in favor of Fiona in these blog posts. That is partly because she is Garibaldi's sister and partly because she's a bit more photogenic. But Wesley has a ton of personality too, and he's really his own capybara as you'll see in today's post.
When I started working with these two, Fiona almost immediately learned to stand. It took Wesley a whole lot longer, partly because he could not understand the concept of looking up for food. Food was on the ground or in his bowl but never above his head and he just could not figure it out. Then again, he's bigger and clumsier than Fiona so it was hard for him to stand. It was quite a breakthrough when he discovered he could lean against the fence.
In the photo above, you'll notice that he is standing very high on his hind legs. This requires a lot more balance and hence the need for the support of the fence.
It is really hard for me to take photos at all since my brain hemorrhage and consequent loss of vision. That isn't made any easier by having to hold the camera (my phone in the case of the photo above), and the food while tempting a huge rodent to balance somewhat precariously on his hind legs.
This is what I'm talking about, Wesley got a little bit out of frame for this shot. Still, I wanted to use it because you can see into his dangerous gaping jaws that are ready to snap my fingers off! Oops, I mean his cute little mouth.
The photos above were taken toward the end of October, when Wesley was first learning to stand. He's gotten a whole lot better at it since then. And I got Rick's help for taking some photos. This allowed me to use my good camera rather than my phone, and to get a better perspective.
Fiona is in the foreground here with Wesley in the back. She is pretty quick to stand up so Wesley didn't stand a chance of getting this first piece of corn.
Alright, Fiona doesn't really stand. She sits up, pretty much the way a dog would beg. This is a fairly stable position and she can hold it for a while. Sometimes I am able to feed her two or three pieces of apple before she loses her balance and has to go down to all fours again.
I love the way they fold their cute little paws against their body.
You can clearly see in the photo above that Fiona is sitting on her hind end rather than really standing.
Sometimes it's hard to resist putting things on their heads. Capys look so cute with food on them. Now if only we had a pancake!
It might not look like Wesley has his butt very far off the ground in this shot, but it's enough to make his stand pretty unstable. It's my hope that he won't try to regain his balance by grabbing someone's hand with his teeth! There are those adorable paws again!
Learning to stand is hard work and a capy needs a break and a reward. Here's Wesley looking super poofy as only he can. He's the poofiest capybara I know of.
Wesley in front, Fiona in the back, getting down to the business of eating.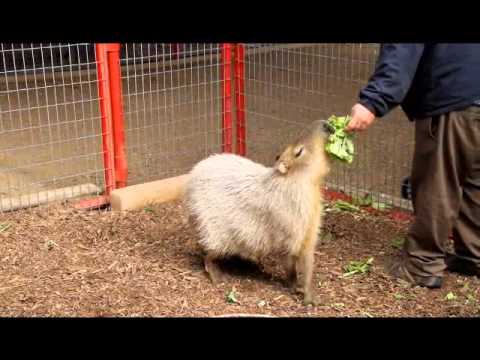 Wesley Stands!
Wesley sometimes takes a couple of steps when he is standing, but he is not very stable. Caplin Rous could actually walk on his hind legs, as you can see if you watch the video below.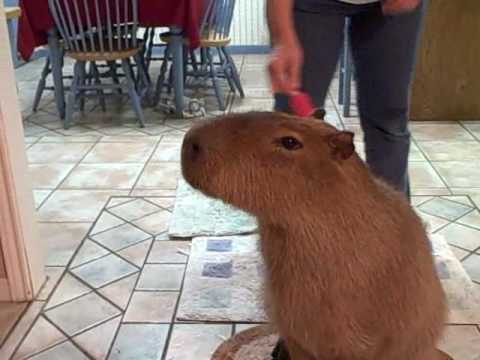 Caplin Rous learns to walk
 I never taught Garibaldi Rous to stand because he had a deformity in his hind legs and I did not want to stress him. He could stand on his pool table though with the water supporting part of his weight.