As October came to a close, I decided to see if Wesley and Fiona would like to celebrate Halloween with a little pumpkin. Actually, I was thinking I would just take photos of them with the pumpkin then maybe crack it open to see if they would eat it.
Turns out I didn't have to crack it open. And I didn't even get a chance to get a photo of them with the undamaged pumpkin. Wesley tore into that thing the minute he saw it. Fiona (in the background above) was a little more reluctant, mainly because Wesley is dominant to her and pushes her around a little.
While sharing may be caring, Wesley is not really into it. He let Fiona have a few bites before pushing her away.
Then he settled into really chowing down. Turns out it is pretty cute to watch a capybara eat a pumpkin. Those sharp rodent incisors do quite a good job.
A pumpkin is too big for a capybara to eat in a single sitting so Wesley decided to take a nap.
Fiona kind of decided that she was not crazy about pumpkin. She demonstrated that by marking it with her anal gland.
I'm hoping this hoop training will result in ultimately being able to put a harness on Fiona. So far we haven't made much progress. Well, except she looks cute with a hoop around her neck.
The next week I tried some more pumpkin on them but they were all, give me corn or give me death! Too bad, pumpkin is really cheap this time of year and would be easy for me to grow in my garden. Why do capybaras have to be so picky?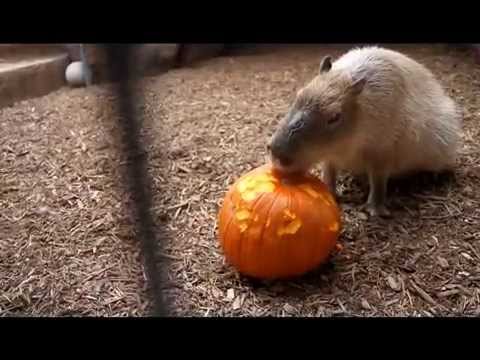 Wesley & Fiona eat a pumpkin