Let me introduce myself. My name is Mudskipper Rous, although I just got that name yesterday. Before that I didn't have a name and I didn't need one. Names are a human sort of thing, most of us animals don't use them.
Anyway, I am now eight days old. I was born in a place called Spring, Texas, although from what I understand, it was not spring there. That's another human thing, calling things something they are not.
Which brings me to the point, I am a capybara, world's largest rodent. The reason I am small now is because I am a baby. I will grow to be over 100 lbs, just like my mom and dad who are named Bonnie(2) and Clyde(2). They have numbers after their names because there already was a pair of capybaras named Bonnie and Clyde. They were the parents of Caplin Rous and Dobby Winnick. That is another human thing, reusing names. Why do they have them in the first place if they don't even uniquely identify you?
All that aside, I am settling into my new home fairly well. Of course there is a lot to check out. An annoying thing is that everything seems to be indoors. Back in Spring, I never went inside but here I'm never allowed outside! At least not yet.
Living inside seems very strange to me. And I miss my parents. But my new owner who goes by the name of Melanie (again, not a unique name and pretty meaningless), says that I'll grow used to it and eventually like it. Right now I find everything here pretty scary.
Well, not everything. I don't find my new play yard (also known as a playpen! What is it with these names?) to be scary. I kind of like the bright colors and soft bottom. I don't like the mesh that keeps me from going where I want though.
I was wandering around my play yard when I cam across this. Interesting. I'd never seen one of these before. Melanie called him a "guinea pig." He doesn't seem to be either a guinea or a pig. He looks pretty much like a fat, short-legged, soft-furred capybara that cannot swim. His full name is Winston Bumblebee Barcode the First but he mostly goes by WBB1. At least he has a unique name! (Although I hear there is a WBB the Second so it's not that unique is it?)
The two of us really hit it off! He likes me and I like him! I'd like him better if he would scratch my belly though. Isn't that what friends are for? I promised him I would rub his belly after, but he didn't seem interested.
Here's a video of me and WBB1 getting to know each other.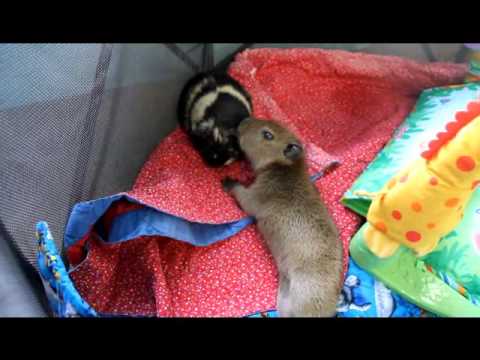 As you can see, we are now best friends.
Time to explain my name. A mudskipper is a type of fish that can crawl on land. An amphibious fish, if you will. A semiaquatic fish. Since capybaras are semiaquatic, it is the perfect name for me. Plus I don't think anyone else has the name Mudskipper Rous. Also, a long time ago some person called a pope (and there have been a lot of people named that!) declared that capybaras were fish. This is clearly not true but Melanie has latched onto it. Her two previous capybaras, whose pawprints I hope to fill, were named Caplin and Garibaldi, both types of fish. Minnow and I will be fresh water fish so that's a little different.
In case you were wondering, I am drinking milk (goat milk replacement) out of a bottle now. I've also eaten a little bit of WBB1's guinea pig pellets. Melanie offered me grass but I turned it down.
I have been getting used to this new lifestyle and spent most of the night sleeping with Melanie or waking her up to ask for more milk.
Later gator! (Only I hope you're not really a gator because that would be scary.)