In case some of you have forgotten, or you are new to my blog, above is a photo of WBB1, also known as Winston Bumblebee Barcode the First. He is a guinea pig and he is my friend.
I meet WBB1 when I first came to live with MelT, when I was one week old. Above is a photo of us together from around that time. You can see that we are about the same size. I was 3.2 lbs and WBB1 was 2.8 lbs. The perfect friend. However, things have changed somewhat.
Can you see what changed? Well, I got bigger but WBB1 did not! Why didn't he? Isn't he just a baby guinea pig like I'm a baby capybara? Aren't guinea pigs and capybaras closely related? I have grown up big and strong but Winston, if anything, has just gotten rounder. I'm thinking that maybe he is a dwarf because he has very short legs. Still, that doesn't explain everything.
Whether he is a dwarf or not, WBB1 is still my friend. Now I have to be very careful not to smash him though.
This is me and Winston showing off our best profiles. Luckily, we both have the same good side. WBB1's profile might be cuter than mine because he is so colorful. And in this view, you can't see how "round" he is. Also, you can't see how sleek I am.
Here we are from the front. I think I look quite regal with my uniformly red coat. Winston just looks gaudy. Not that I'd say anything mean about him. Gaudy is good.
It might seem rude to humans, but we rodents often sniff each other's butts. We have a keen sense of smell so we can tell exactly who we are talking to. Winston also smelled my butt.
I love to chew on ears, but WBB1's were the first ones I got a chance to. They are delicious. By now I have also chewed the ears of my kitten, Driftwood, all of my plush animals, and MelT's. Winston's are still the best. MelT's are the worst.
There's no better way to show a friend that you love them than to give a little kiss. WBB1 and I love each other.
After MelT put WBB1 back in his cage I was very sad. I lay down on the couch sulking. Next thing I knew I was waking up several hours later.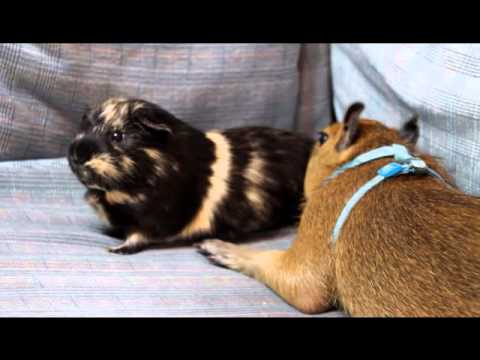 Here's a video of me and WBB1 together.