Look at me! I had my first stalker come to visit. Her name is Martha. Of course, she was really a stalker of Garibaldi but she has managed to squeeze some extra affection out for me. She came all the way from California. She says it was to "visit family." Whatever. We all know what the truth is.
Driftwood is always trying to hog the limelight. Sure, he's a cute kitten but people don't come all the way from California to visit him, do they? I think not.
Naturally, there are introductions to be made. I had to sniff Marth and she had to scratch me. I think we both liked it. Martha smelled nice, in a human kind of way.
Martha was actually a quick study on capybara scratching. I think she must have learned it from watching videos of Gari and Wesley and Fiona. You can see how well she did at scratching my belly. There's a real art to it. Also, I'm chewing on one of Driftwood's torys. We share everything.
Martha liked it when I climbed on her head. MelT says that when I get bigger, people won't like this. I think they will. Also, I am still carrying Driftwood's toy. Cats get the best toys.
As I said in my Cuteness Test post, when I walk on people's back it is just like one of  those masseuse with tiny feet. Only my feet aren't tiny.
I think everyone would like to wear me on their head. It's hard to balance up there though. Also, where's my food bowl?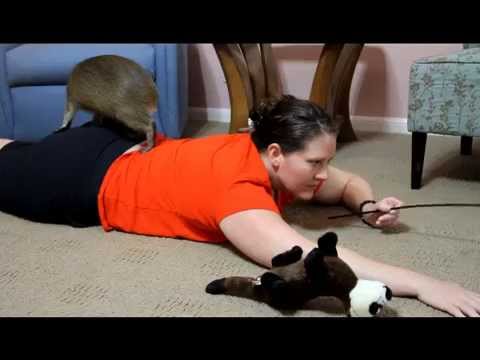 You should really watch the video if you have any plans of visiting me at all. This will give you some pointers on how to treat a baby capybara.