From all of my posts and photos showing me indoors, you might think that is my life. That is misleading. Everyday I take MelT on a tour of our yard for at least an hour or two. Mostly she stands around looking bored, which I don't understand. I can always find things to do.
Sadly, Driftwood seems to be an indoor cat. He has not figured out how to get MelT to respond to the leash correctly when dealing with a cat. It's true, even I have trouble with that. MelT can be pretty stubborn.
From the front porch I can view the entire front yard, such as it is. The steps are pretty steep though. The first one is a doozy. MelT says it has to be fixed by October or she can't get insurance on the house. Imagine that.
One of the things I like to do is hang out in the shade and moist earth along the back fence. MelT usually sits in the grass at this point. I don't see her grazing though.
The back fence is also a great place for rolling. The fence keeps me from accidentally rolling all the way over. MelT says I'm like Caplin in that regard. He never rolled all the way over either. On the other hand, Garibaldi was some kind of rolling maniac, and I do mean maniac. As in insane.
You'll never guess who also likes the back fence! Okay, go ahead and try. No one ever believes you when you say you'll never guess. They always take it as some kind of challenge.
Did you guess correctly? It is Leopolda. Sometimes we play follow the leader but she is always the leader. That's weird because she is so slow. But unless I let her lead, she won't play.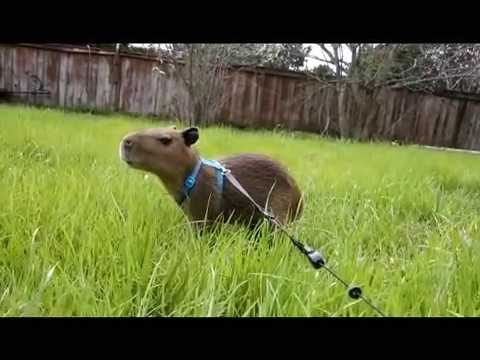 You can watch a short (2 min) video featuring everything I've talked about so far in this post. It doesn't show MelT's leash behavior though because she's the one who has to use the camera.
I decided I don't like the pond. I found out there is a snapping turtle in there and I don't like the sound of that.
My wading pool is very dirty because MelT has been using it to wash her feet off after she feeds the horses. I'd say this was rude of her, but I like the pool dirty.
I don't like to brag but…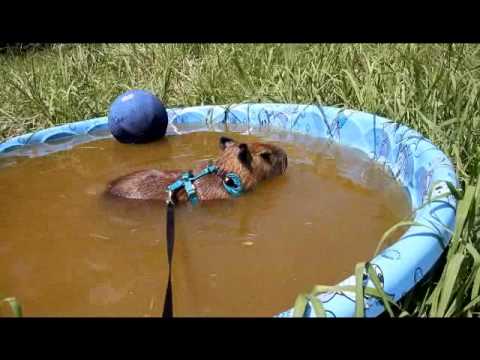 Here's another short (2 min.) video.  This one shows me playing in the pool.
Okay, that's it for now. I feel like running up and down the halls with Driftwood for a while.