Yoohoo! Mudskipper Rous here with another installment of the story of my life.
I hope you read My First Tricks where I show off the earliest tricks to be pounded into my little capy brain. In this post you will see that, sadly, it did not end there. See that colorful stool in the background of the photo above? My new tricks involve that. Oh the humiliation! But honestly, I'll do anything for treats.
It all started innocently enough when Melly asked me to come over to her. I could tell she had treats in her hand. I was hoping for Temptations, which are cat treats for Driftwood but are actually manna from heaven. It wasn't. It was guinea pig treats. It's not quite divine but it's pretty close so I wasn't too disappointed.
This look usually gets me some treats and it was no exception this time. But see, that darned stool is right there in the background stalking me.
Apparently MelT got this stool for Garibaldi but he would never get on it. I think Gari was much bigger than I am and even I felt a little nervous up there. It's so small that even a baby capybara could fall off. Though I have to admit it's not very tall so probably I wouldn't get hurt.
You'd think getting up there would be a good enough trick. That's sure what I thought! But no, there's a lot more to it. You'll have to watch the video to find out.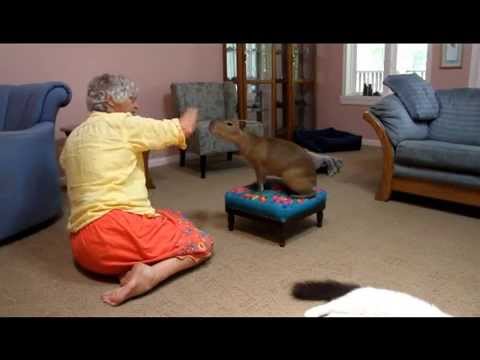 All of my tricks in one short 3.5 minute video.
Did you know that I can tell if you watch my videos or not? YouTube keeps track of that sort of thing. It really hurts my feelings if I go through all this trouble and humiliation and then no one watches. I don't want to beg, but…