Mudskipper Rous here again after a long hiatus due to MelT's laziness.
I hope everyone knows that July 10th is Caplin Day / Capybara Awareness Day! That's the special day each year when we celebrate the existence of capybaras in general (and that is something to celebrate!), and Caplin Rous in particular.
We especially honor those captive capybaras who have been lost. MelT started this holiday after her beloved Caplin Rous died. It was a very, very sad time for her but she decided to commemorate his life rather than focusing on his death. That, as everyone knows, was the start of the ROUS Foundation for Capybara Veterinary Medicine.
It was also the start of Caplin Day! Caplin Day is celebrated on July 10th because that was Caplin's birthday.
It's a great honor to follow in Caplin's pawprints, and those of Garibaldi Rous who MelT says was the sweetest capybara ever, even sweeter than Caplin maybe.
Getting down to business, Caplin Day can be celebrated in a variety of ways. Traditionally, it is observed by the consumption of a frozen dessert called a popsicle or an ice pop, Caplin's favorite food. You can also enjoy yogurt, another of Caplin's favorites. Or you can focus more on Garibaldi and eat peanuts or roll around in the grass or in a pool.
I chose the popsicle option, or rather, MelT chose that for me. She made the popsicle out of my milk. Turns out it is pretty good cold! I can see why Caplin liked them.
It is hard to fit the whole thing in your mouth. And it kind of gave me a headache. But it was worth it.
When I was eating the popsicle I was concentrating too hard to be able to think about anything else. Afterward I took a long nap and, as I was falling asleep, I thought about Caplin, Gari, Nathan, Odin, Onca, Rousabell, Bonny and Clyde, and many others who came before me.It is so sad that many have been lost, but it is nice that the Rous Foundation is doing what it can to help me and other capybaras live longer, happier lives. If you'd like to make a tax deductible donation, just follow the link above. That is another great way to celebrate Caplin Day.
As cute as I am in the still photos, I am even cuter in my video of me eating the popsicle!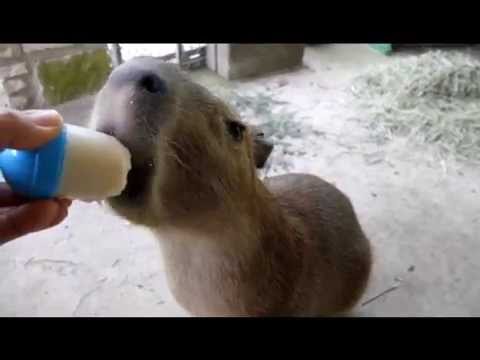 And JoeJoe, who is taking over the claim as World's Most Famous Capybara, has a cute popsicle eating video too!
You  can read about previous Caplin Days here.