Sorry I've been gone so long, y'all. MelT's been lazy.
Do you ever have that feeling that something bad is about to happen? I had that the other day. Strange things started appearing in our house. Things that seemed to have no purpose. You can see them in the background of this photo. Come to think of it, Driftwood is also in the background and I don't know what his purpose is either. I went to MelT to ask her what was up. I shouldn't have done that.
Of course, I was suspicious. It didn't look like it had anything to do with water though so I judged it as harmless. That was a hard lesson to learn!
In retrospect, I should have known what was coming. I am very naive for a capybara.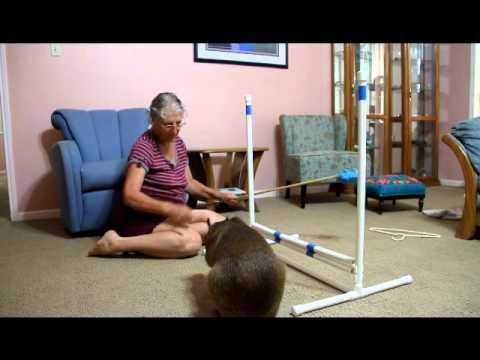 Early training
Oh treats! What I won't do for you! I wish I didn't have such a taste for rat chow. I think this is why rats re always fat.
You can see what happened. Slowly but surely, she tricked me into jumping. It was a test of wills and she won. That wasn't the end of her winning streak either.

Middle training
MelT stopped giving me treats unless I actually jumped. I could see it coming but I couldn't hold out any longer. Anyway, I'm pretty darned athletic, aren't I? I bet other capybaras can't jump like that. Or they don't have to.
One bad thing leads to another. As soon as she got me jumping the hurdle, she moved on to other things.
She got this cat tunnel is ostensibly for Driftwood but I have to admit, it's kind of fun for capybaras too. Going through the tunnel was much more fun than jumping the hurdle, especially when I chased Driftwood through it!
There's nothing I like more than a toy I can customize. That tunnel was sorely lacking in entrances, exits, and windows. I fixed that.
MelT didn't leave it at hurdling and tunneling, of course she had to stuff in one more trick, push the button. That is a very easy trick and results in sufficient treats to make it more than worthwhile.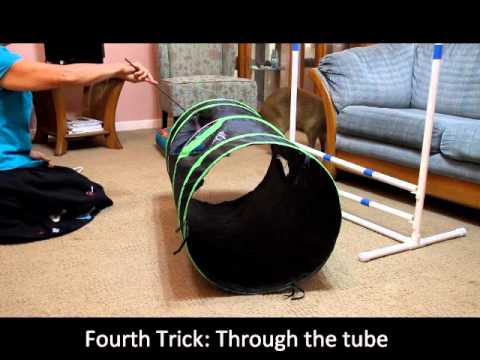 Three tricks perfected
That's about it for this blog post. I hope not to let such a long interval go by before I post again. I also hope it will not be a post about new tricks. Or water, especially swimming. No about of treats is going to make me do that.