Yo ho ho! Mudskipper here, back from a long vacation, i.e. MelT was too lazy to help me write. This is going to be a great post though. It is all about me and Winston Bumblebee Barcode the 1st. Some of you may remember when WBB1 came to live here. That  was a long time ago, before I was born. He was a good friend to Garibaldi Rous, who was a good friend to everyone. This is just one of the areas where I have to step into his enormous pawprints.
I think I'm doing an okay job. I met WBB1 almost as soon as I came to live here, in fact, almost as soon as I was alive! You can see from the photo above that we were good friends from the very start.
Since WBB1 was an adult when MelT adopted him, we don't know exactly how old he is now. He has lived here for three years though so MelT estimates his age at four years old. He's still a pretty good looking guinea pig, although he has developed a bit of a paunch.
Lately MelT has been letting me and WBB1 eat breakfast together on the back porch. It's pretty nice to have some rodent company. Turns out the two of us like most of the same foods!
For some reason Driftwood isn't alowed on the porch with me and Winston. I don't know why. Maybe it's because he doesn't like hay or corn. Maybe black and white animals aren't allowed on the porch. WBB1 is black and he has a little white spot on his head, but he is also tan. I really don't get it.
You can see the little white spot on Winston's head in this photo. And look how good I am with sharing!  I hardly ever even step on WBB1.
WBB1 doesn't mind (too much) when I chew on his ear. I've been doing that since I was a baby. I think he likes it.
WBB1 is eating corn silk in the photo above. We both like that but I think he likes it better.
In the photo at the top of this post you can see that Winston and I used to be about the same size. He's been shrinking though! Now he's even smaller than my head. At this rate, he is going to completly disapear.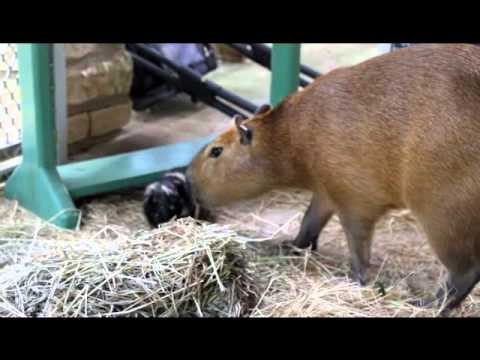 Me and WBB1 in action