Honestly, you never know what MelT will do. The above photo shows my predecessor, Garibaldi Rous, climbing out of my old pond. Only that doesn't really look like my old pond — here after referred to as pond 1. Pond 1 was never that blue. Nothing was ever that blue. But that is what she'd like you to imagine so I guess I'll go along with it. For now.
This is a more realistic view of pond 1. Not so blue now, is it? Still, fun to swim in, especially to roll and stick my feet out of the water. I'm no Garibaldi but I can emulate him.
You
You may recall that my superpower is jumping. I can jump under all sorts of conditions. Jumping out of the water might be the superous part of my superpower.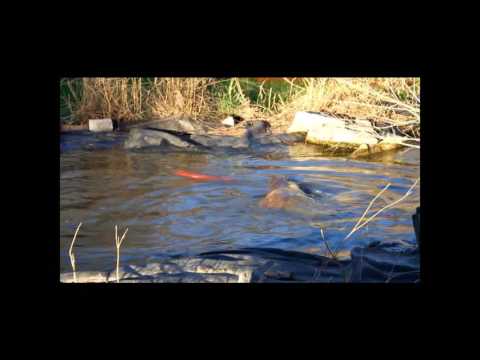 Me swimming and jumping
I was pretty happy with Pond 1 up until I saw Pond 2 being born.
The photo above shows the very beginning of Pond 2. The photo was taken on May 13th. I was curious. I had no idea why MelT was making this hole other than the fact that she is crazy.
I'm going to skip over all the digging and whatnot and get right to today. MelT can handle the details.
This was taken on July 20th. The pond is only half dug. It is nice and deep, which I like very much. What I don't like is how long it is taking her to dig it! Doesn't that look like fun to swim in?
Pond 2 is bigger than this now but not a whole lot. MelT still has a lot of work to do.She has filled it with water for me a couple of times. It is an absolute pleasure to swim in! The depth makes a huge difference. I can dive, dive, dive until I think I'll never have to come up. And the water is nice and muddy which means I can hide down there.
I can hardly wait for Pond 2 to be done. MelT says it won't be as muddy because she is putting something called a "liner" between the water and the dirt. She is always doing lame things like that.
Do you have a pond of your own? MelT says she's like to know what kind of liner you use. (Don't tell her! Do you get to go swimming in your pond? Do you keep fish in it? Capybaras?