A Melanie's Mondays post:
It turns out that my posts are never on Mondays. Such is life. This post is about my trip to see the Great American Eclipse of August 21, 2017, but I thought I'd start it out with a cute photo of Skipper to trick you into reading it.
Coral and I decided to go somewhere remote to see the eclipse. The news outlets were reporting that they expected massive traffic jams. So we headed to Sutton, Nebraska, just off the center line of the eclipse. We originally were going to a slightly larger town named Geneva, a little to the east, but we found out Bill Nye was going to be there. That meant lots of people. We're loners, so that was no good for us.
Sutton had a cute, and surprisingly large, park where an eclipse viewing party was going to take place. Sure, Sutton only has about 1,500 people, but what if they all came? Instead of joining the festivities, we went to this small cemetery about a mile from town. Unfortunately, we had to share it with one other guy who was there to view the eclipse with his dead brother.
I thought I would show you a photo of my black eye. I got it earlier in the day by slamming the edge of the car door into my face. I don't recommend that, it was extremely painful. You'll notice the picture is mostly of the palm of my hand. This is not intended to be artistic, although it is, right? Because of my visual deficiency it is impossible for me to see the whole frame at once. I do dumb stuff like this all the time. Usually it's only my thumb.
This is what the partial eclipse looked like. Probably a lot of you saw something like this. I took this by putting eclipse glasses in front of my camera lens. You'll notice my framing problem again. I didn't see the edge of the filter so half of the photo was white. I wonder if that hurt my eyes, but it would be hard to know.
This is what the partial eclipse looked like without the solar filter.You can look at the sun for short periods of time if it is partially obscured by clouds. I'm sure all of you have done this at one time or another.
The clouds were scary. There hasn't been a total eclipse in the US since 1979. We did not want to be "clouded out."
Tada! Here it is! You should click on this image to you can enlarge it. This is 1:03 PM. The clouds didn't completely clear but they were thin enough for us to see through them where the sun was. You can make out the diamond ring, the last bright light of the sun just as it disappears behind the moon. You can also see the sunset effect. During a total eclipse, there is a 360 degree sunset, which is amazing. We could also see stars through the openings in the clouds.
Don't miss the next US total solar eclipse! It is in 2024. I won't have to travel for that eclipse since my house is in the path of totality! We'll have to see how Skipper reacts to that!
On our way home Coral and I stopped for a picnic lunch at a park somewhere in Kansas. They had this cute dog statue that I thought I'd share. If only it had been a capybara!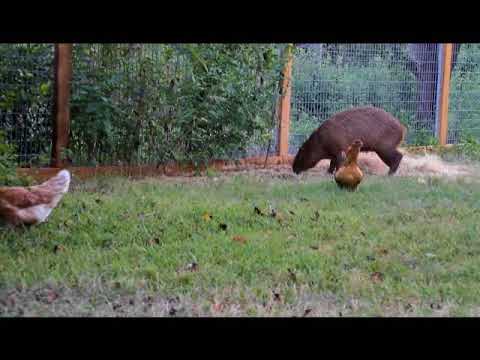 Skipper running
Since you had to read this post that had nothing to do with capybaras, I thought I'd reward you with this cute video of Skipper running across the yard.
Put a comment and let me know where you were and what you thought of the eclipse! Enquiring minds want to know.