A Melanie's Mondays Post:
If you've been following Skipper since I got her, you'll recall that she didn't like the water when she was a baby. I finally got her to go in the pond (Pond 1) when she was about five months old. Above is a photo of her a couple of months later. Unfortunately, Pond 1 had not been very photogenic for a long time so I don't have many pictures of her in it even though she came to love swimming there. I am not going to make that mistake with Pond 2! You are going to see so many photos that you are going to get sick of them!
Skipper isn't in this shot but I wanted to post it anyway because it gives a good impression of the size and shape of Pond 1. You can get a good idea by looking at the goldfish swimming around in the back. Nessie the snapping turtle is hiding next to some rocks in the front.
If you look closely, you may be able to make out that Pond 1 was originally shaped like a giant fish. The goldfish are in the head, near where the eye would be. Nessie is at the base of the tail. I built it so long ago and the pond had been so overgrown that I'd completely forgotten that!
Turns out fish-shaped is not great for a pond. There is very little area that you can dig very deep. In Pond 1 all of that area was in the center of the head where it plunged down to almost three feet. The rest was more along the lines of eighteen inches to two feet. A fun place for a capy to play in but not really great for a good swim. Of course, Caplin and Garibaldi swam in the pool. Since Skipper wouldn't have anything to do with the pool, she didn't really have a good place to swim. Hence the birth of Pond 2.
This photo is just to show you how deep Pond 2 is going to be. Skipper gives the photo some sense of scale. Nearly all of the pond will be as deep as that central region.
You'll notice that it alsmost seems like Pond 2 has two ledges around the perimeter. That's because it did. It did until Skipper started swimming in it whereupon she slushed all that dirt (mud) down to the bottom of the pond so I can dig it out again. It also destroys the ledges. I might dig them back or I might just have a slope up to the top.
You'll also notice that she is sitting on a little dirt mound. The pond is going to extend out to the base of that "hill." The water will be deep there so she can jump from the hilltop into the pond. That's what capys do in the wild so I think she'll like it. And it will be fun to watch. Her superpower is jumping you know.
The photo above is to remind you of what a talented jumper Skipper is. She's hard to photograph because she is so fast. Anyway, the blur is artistic in my opinion.
This is pretty much what the pond looks like right now. When finished it should be a little less than twice that size. She is going to LOVE it! Actually, she already does. She can get a better underwater run in in Pond 2 now than she ever could with Pond 1.
Those who know capybaras might notice that Pond 2 seems to be in the shape of a giant hind pawprint of a capybara. That is just a coincidence. Eventually it will be a semicircle.
That photo is just to show that she likes it. Plus, she's cute.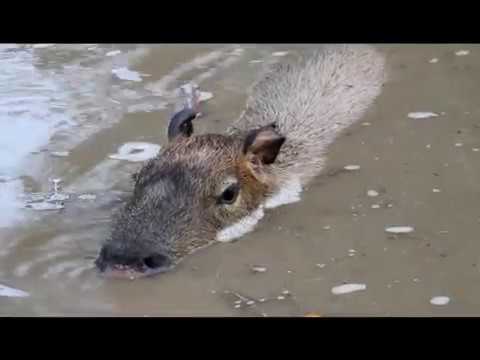 Hiccups and tadpoles
I was going to let the pond dry out to make it easier to dig but then I noticed that there are about 12,000 tadpoles. I can't be responsible for the deaths of so many innocent animals. So Pond 2 is still basically full and Skipper is still happy as a tadpole.
Of course, I love comments! What do you think of all those tadpoles? Crazy, yeah?