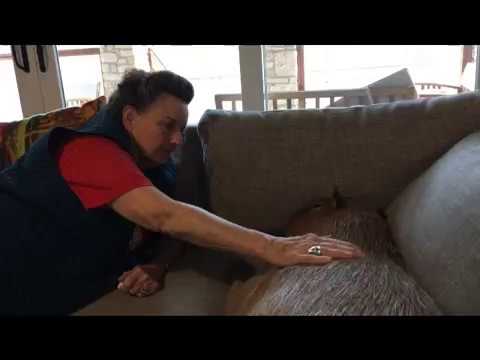 A Skipper Rous Post:
While the video above is pretty darned cute, it doesn't have to do with this post. I just thought you'd like it. That is my friend, Nancy, petting me.
The title of this post is also misleading. It's not really my birthday. My birthday is February 7th. But that date is coming up right quick. I think about it all the time. Did you know that I am going to be three? TREE! Can you believe it? MelT doesn't like it when she gets older, but I like it when I do.
So far I have gotten one present. It is from my friend, Sheldon.
Sheldon gave mea capybara puppet. He says it looks like me. What do you think?
Okay, thee's some resemblance, but I am still not a puppet. The puppet is that little capy sitting next to me. Really, it's too small to be anything but a tiny, baby capybara. I am still cuter, even though I am big. Also, it is lacking the gleem in its eyes that I have. I'm going to call it Mini-me.
I know you are wondering why I'm bringing my birthday up now, but I have a good reason. It is not exactly because I want more presents. Not exactly.
And I'm not begging either. Not exactly. Only kind of.
MelT says it's okay for me to ask for this present even though it isn't normally. She says it's okay because it's not for me. Except for my ego, which could use a boost. Did you see that they only used about one minute of time for my segment on Inside Edition? One minute to describe all of me? How humiliating.
Anyway, this is the present I would like for my birthday. I would like everyone to donate $1.00 to the ROUS Foundation. You can do that using a money transfer from PayPal to rousfoundation@gmail.com. It's so easy, and MelT claims $1 is so little you can't even buy a bottle of water for that! (I hope she isn't buying bottled water to fill up my pond!)
My presents, hopefully $1 times 1,000,000 friends, will go a long way toward helping capybaras remain healthy and happy. Maybe even me someday, but I hope not. Every time I get a $1.00 donation, MelT says she will give me another cob of corn! Too bad I know she is lying. But it would make me feel better about the Inside Edition thing because it would prove I do have some redeeming qualities that those people just didn't see.
So, I'm not begging, but could you please send $1.00 to the RF for me?
Thanks ever so much!
P.S. Did you know that Dobby Winnick's ninth birthday is February 14th? Maybe that's why he is such a heartbreaker.