Wow! Suddenly the weather is nice and the whole world has turned green! I have been waiting for this my whole life…or at least since last fall, that's what MelT says anyway.
Sometimes I look out through the fence and wonder what is out there. This makes me very nervous. Who knows how many jaguars are hiding in those bushes? Or maybe they are waiting on the banks of Capybara Creek. If an unwary capybara should wander by… Well, that capybara is not me! I'll stay safe and sound inside the yard.
There's a lot of fresh green grass for me to chew on, but MelT's cap has a flavor that is hard to resist.
With the new warm weather, I was wondering if the pool had gotten to a capybara-tolerable temperature. Best to go check it out.
It is a funny thing about water, it looks the same whether it is hot or cold. I mean unless it is frozen or boiling. This water is daring me to put my paws in.
MelT says she has been trying to find me a new unicorn noodle because my old one is all faded and black on the bottom. If this were true, wouldn't I have a new noodle by now? If anyone knows where to get a new unicorn noodle, please let me know!!!!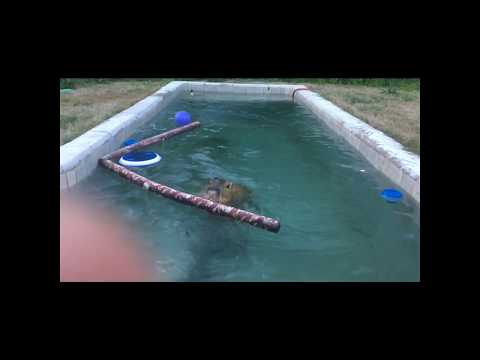 Can you tell from this video how happy I am to be swimming again?
Check out my cute backward flip (flop) toward the end of the video. And my masterful exit jump.
MelT says the water is not warm enough for humans yet so she didn't get in with me. Maybe next week.
Don't forget to look for a unicorn noodle for me!