I was wondering what this big blue thing in my yard was and now I know, it is a hugantic, ginormous pool, 1,000 bigger than any pool I have ever seen before!
In the photo above you can see me thinking about going in for the first time. I really didn't know what to make of it. So much water in one place! But my capy heritage shinned through and I took the dive.
I was great at diving right from the beginning. That sign says "No Diving" but it doesn't apply to capybaras, only to humans. Capybaras can dive if they want to. I never knew my little butt was so cute but it looks pretty adorable in this photo. And can you see my front paw stretched out to reach the bottom? That was no belly-flop, I can tell you that.
Do humans find it hard to get to the bottom of a pool? I don't. I could stay down there for hours–or at least minutes–if I wanted to. But first I had to explore every corner of the pool both from the bottom and the top so no time to relax down there.
I kept thinking of that song from The Little Mermaid, A Whole New World.  I felt like a whole new world had opened up for me. My little pools are a poor imitation of the aquatic freedom I felt in the big pool. I never got to swim at all at my old home in Ohio so when I came to live with Rick and Melly, my water tub and the pond seemed like such freedom. And then I got my big wading pool where I could roll to my heart's content. But this is just a whole different order of magnitude.
I didn't really have to come up for air yet because we capybaras can hold our breath for five minutes or more but I also had to explore the surface of the water.
There is a table in the pool that I can easily climb onto. It might be a good place for resting later but I didn't experiment with that concept on this first swim.
From the pool table I can survey my entire aquatic domain and decide where I want to go next and what I want to do. There are a lot of corners in the pool (8 because the top and bottom corners count separately) and there are a lot of toys so it's not an easy decision.
One time I got up on the pool table and I was inside this hula hoop. It is a big, circular plastic ring. I will destroy it eventually and I made a good start on it already but I was too busy exploring to put in the required effort on this first swim. I'll keep you posted on my progress.
I hope you know that if you click on the photos in the blog, you can see a larger version. That is especially important with the photo above. You need to see it full size to appreciate how graceful I am underwater.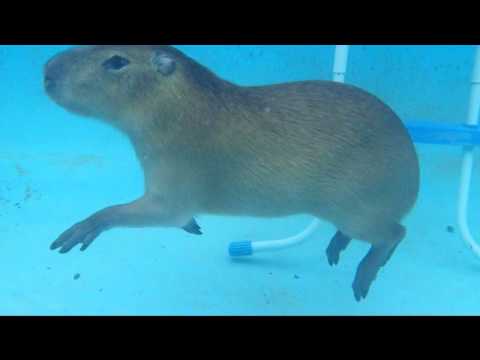 This very short video shows how incredibly graceful I am in the water.
This photo really shows how beautiful my fur is. I still have short, baby fur. When I get older my fur will be long and luxurious. Well, it will be long anyway.
But what is that thing on my nose? I thought Rick and Melly gave me a nice clean pool but I found this little piece of paper in it. Actually, it found me.
After a while I decided to try dry land again. That is what makes us capybaras amphibious. (Not amphibians, mind you, that's something different.) Rick put the pool table next to the wall of the pool and then put some bricks on it and it was super easy to get out.
After gaining access to the big pool, I thought I could go anywhere I wanted! I have always wanted to get on top of Rick's head and this seemed like the perfect opportunity. Why did he stop me? And how did he know what I was going to do? Well, there's always tomorrow.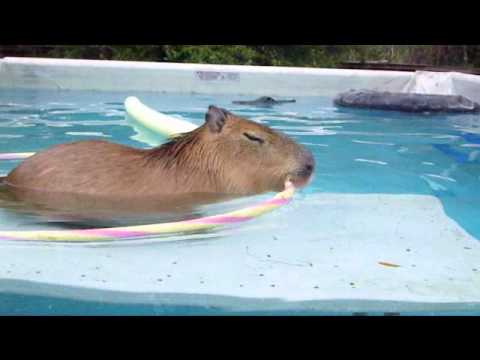 Melly documented my experience in video. She even got me rolling over underwater.
Keep tunned to this blog, I'm sure there will be lots more interesting stories about me and the pool. And y'all want to find out what happens to that hula hoop, right?