This is a continuation of my last blog post, Super Saturday Part I.
When we get home from a trip in the car, I always get to go on a little walk around the property. Generally I can go wherever I want as long as Melly and Sheldon don't think it is dangerous. When we got back from our lunch, I first decided to go visit the horses. I'm not afraid of them as long as they are on the other side of the fence. Sometimes I think I would like to go in there but then I realize that I probably wouldn't like it after all.
The horses are Phoenix, the dark one on the left, and Chesapeake, the bay horse on the right. Melly says they are both nice (although Buzz, who is not shown in the nicest), but she still doesn't trust them with me. I like that Phoenix has stripes. You can only see the one down her back in the photo but she has stripes on the backs of her legs too. Melly says she is not a zebra but she doesn't know everything. Anyway, I wish I had stripes.
I keep thinking there has got to be something delicious to eat on all the land that surrounds my yard. I search for it on my walks but there is never anything. Melly says this is because of the drought.
Seriously, there is nothing out here, not even dried grass. The horses must have eaten it the couple of times that Melly has let them out to graze. They are not as picky as I am and they are much faster eaters.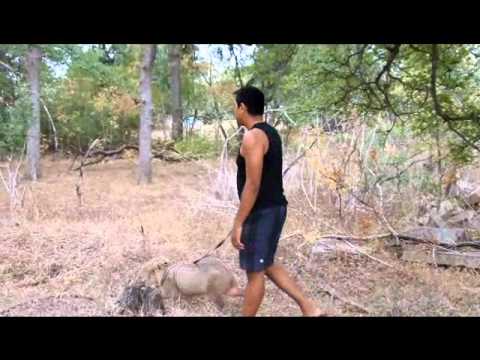 This is a video of my walk with Sheldon.
Eventually I gave up and headed back for the yard. It looked like a veritable jungle next to the rest of the property. I've been complaining about the quality of the grass and I'd like to say I'm going to stop now that I've seen what we're up against, but I don't see myself doing that.
After all the excitement of the morning, Sheldon and I needed a nap. Melly didn't though. She can never stop taking photos and you can't do that while you're sleeping. I'd just gotten to sleep when Melly got a phone call from Jim Perry, the famous artist who did the wonderful paintings of Caplin Rous. You can see his Computer Caplin painting here.
Above is a puzzle that we were selling featuring Jim's art. This puzzle is sold out but there are others available, although not with Jim's art on them.
I was excited to meet Jim although I really didn't want to get up.
Treats will work miracles though and I managed to stir myself enough to eat some peanuts. The really great thing was that Jim forgot to take the peanuts with him when he left the room. Later I came back and ate them, plastic bag and all.
Of course we had to go for another swim, my third of the day but probably only the first for Jim Perry and Sheldon. Melly said the water was too cold for her to get in and Rick never gets in with me.
Rick and I did some more roughhousing. Melly sometimes calls this game Killer Capybara but no one has died yet.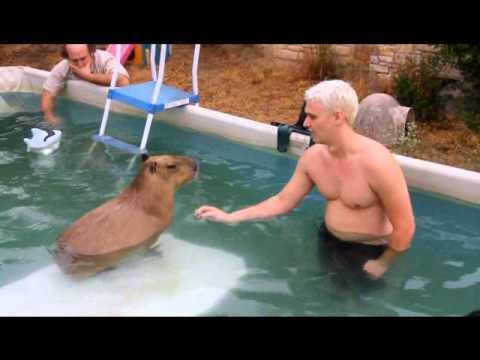 A video of my visit with Jim Perry.
Swimming with me is a lot of fun because of how fun I am. When the water is murky, as it was for Jim Perry's visit, I can swim underwater and appear anywhere. Remember, I can hold my breath for up to five minutes. I like to startle people by sneaking up behind them. I also like being thrown backward as Sheldon is throwing me in the photo above. Jim Perry lacked the confidence to do that. Maybe next time.
That is the end of my Super Saturday story. I hope you have enjoyed it!
Don't forget to answer the poll on the right side bar!