Owner's Blog:
I was out in California last week to visit my sister and I couldn't pass up the chance to visit the world famous San Diego Zoo. Last time I was there, about five years ago, they did not have capybaras but I knew that they had a band of them now and I couldn't wait to see them. Of course, I brought my two plush capybaras, Capycoppy (left) and Super Capy (right) with me. I also brought Double Decoy, the guinea pig in the middle. There's nothing like going around taking photos of plush animals in a crowded area to make you feel crazy.
My sister, whose birthday we were celebrating, wanted to see the gorillas. We spent a ridiculous amount of time there but all you're going to see of them is this photo of the plushes with a gorilla bust. Why waste time on other animals when there are capybaras to see?
The zoo is enormous and it will eat up your whole day before you even get to the capybaras if you are not careful. They are at the Elephant Odyssey which is way in the back of the park. It is not too far from the drop off point for the "sky buckets." The best thing to do is probably to get on the sky tram near the zoo entrance as soon as you arrive, go see the capybaras first and if there is any time left over, you can glance at the rest of the zoo.
Do not be expecting to learn a lot about the capybaras — or any of the zoo's animals — by reading the posted placards. They are not very informative. They don't even have distribution maps. The zoo's website has a pretty good entry on capybaras that you can read here.
The keeper I talked to, Steve according to his name tag, said there are approximately seven capybara in the exhibit including one seven month old male who was born there. That struck me as curious since one is not the typical number of kittens in a capybara clutter. I asked if there had been others and, if so, what happened to them. Steve was evasive on this saying he was not authorized to discuss that. In the photo above, you can see the young male who displays the short, red fur typical of young capybaras.
There is actually a bigger mystery. In November 2008 the zoo acquired nine adult capybaras. Buddy, the young male, was born there, which should leave them with ten. Why are there only seven? Maybe the above photo provides a hint. I watched this capybara and it was clearly afraid of the guanacos. It should be, Capyboppy, the second most famous capybara, was killed by a guanaco not long after he went to live at the LA Zoo.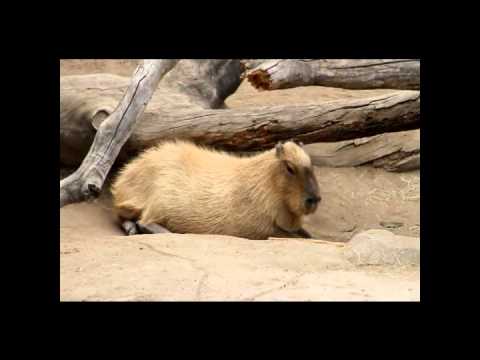 San Diego Zoo Capybaras video
In the video you can see that the capybara is nervous when the guanacos come near.
Another health issue for the capys might be their weight. Steve said the largest of them weighs 139 lbs, which is within the documented weight range of 120-140 lbs for capybaras…just barely. But you can see in the image above that they are not carrying that weight as muscle. This capybara has a waddle!
I'm going to blame the guanacos for the capybaras' weight problem. It is natural for capybara to move around a lot while they are grazing during the morning and evening hours, or the afternoon or even night depending on their mood and where they live. But the capys at the San Diego Zoo have to go through this little door and eat inside. I am assuming this is because the guanacos will beat them up and steal their food.
You may notice that there is nothing growing in the enclosure. I am blaming the guanacos for that too. In the wild, capybara crop the grass so it looks like a golf course. They do not eat it down to nothing. The capy above is forced to chew on a stick rather than satisfying her natural desire to graze to wear down her teeth. Grass is very tough so that wild capybaras keep their teeth nicely worn. Grazing also gets the capybara up and moving, constantly searching for the perfect grass, even when they are not really hungry.
Perhaps I am being unfair to the guanacos; it is possible that the tapir is to blame for some of the austerity of the enclosure.
That brings up another point. Capybaras and tapirs do share the same environment in the wild but what are those guanacos doing in there anyway? Guanacos are cold weather animals as evidenced by their thick coats. They live in the mountains not in the marshes and forest streams. It seems like "South American" is a good enough tag and the zoo just throws the animals in together without even explaining that in the wild these animals would never encounter each other.
So what is my opinion of the San Diego Zoo? I could spend days there.
But I am a little tired of the reverence most people give zoos and the haughty attitude of zoos themselves. I think they could provide better information to their visitors using more informative signage and not lumping disparate animals together. I think that rodents, who make up 1/4 of all mammal species, are seriously underrepresented. I think that the zoo environment is not all that safe or healthy for the animals.
For the capybaras, seeing a few fat animals with no reason to move about in a completely unnatural environment does not do them justice. How can people see or understand anything of their natural behaviors and social interactions? How can they appreciate their intelligence and affectionate natures? They cannot even hear their beautiful voices.
There is a place for zoos and I enjoy them as much as the next person, but Garibaldi Rous is a better ambassador for capybaras than capybaras in a zoo.