Owner's blog:
Don't panic!
At least not yet.
As you can see in the photo above, Garibaldi Rous is having a problem with foaming  at the mouth or excess saliva. We don't yet know what the problem is for sure, but I believe it is has to do with his teeth.
He has an appointment at Texas A&M College of Veterinary Medicine for Monday afternoon. That is the soonest I can get him to see Dr. Hoppes, the ROUS Foundation veterinarian. Since Dr. Hoppes has seen him before, I want to wait, if at all possible, until he can see her. Otherwise we are likely to get a vet who has never worked with a capybara.
I don't think it is his front teeth, his incisors. I'm pretty sure the problem is with his molars on the right side, just given the way he behaves. Without actually being able to look in his mouth or having xrays, that is all conjecture by an observant, but non-veterinarian, owner. It could be solved as simply as filing his teeth down, that's what I'm hoping for. But, of course, it could be something more serious. I keep thinking of how Maple WoMER lost her eye to a tooth problem, not to mention costing about $3,000. I hate to think what the same thing in a capybara would cost–not that I wouldn't pay it!
In the photo above, I have just started feeding him his afternoon lettuce-in-the-pool. You can see the foam around his mouth. That is not normal. But his bottom teeth look pretty good. You'll have to take my word for it that there doesn't seem to be anything wrong with his upper teeth.
This photo might be cute until you realize what is going on. He is not begging for a treat. What he is doing is trying to throw up something he has just swallowed. Veterinary literature says that capybaras cannot throw up (many animals cannot), but whether this counts as real regurgitation or not, he was able to spit up some of the lettuce he had just swallowed. After that, his eating was easier. He ended up consuming his usual two full heads of lettuce.
Although this has been getting progressively worse over the past two weeks, one positive sign is that Gari's appetite is still robust. If anything, he is eating more than usual.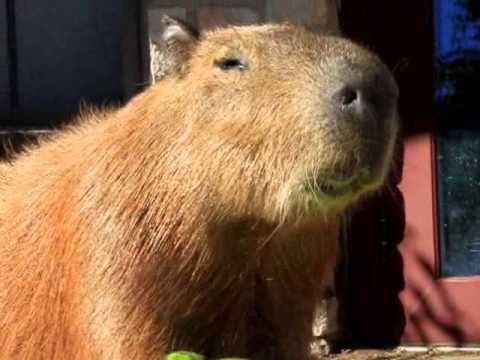 Garibaldi eating
The above video shows the unnatural way Garibaldi is moving his mouth. Along with this strange, excessive chewing, he is making some new noises. One noise he makes now sounds just like aggressive clicking. You can hear an example of aggressive clicking in this video of Caplin Rous. Go to about the 35 second marker to hear it. I don't have any videos of Garibaldi clicking because he absolutely never does it. He doesn't have an aggressive or territorial bone in his little body. And when I hear him making the noise now, it is not accompanied by any aggressive behaviors. This is part of what makes me believe the problem is with his teeth.
I will keep you all informed via this blog or his Facebook page.