One of the great things about the BlogPaws conference being on Las Vegas was that it gave me the chance to meet the famous capybara "brothers," Romeo and Tuff'n. Oh, and their humans, Marvin and Elizabeth, too. In the photo above, Marvin is on the left, then Romeo, Tuff'n is grazing, and Elizabeth is on the right in the back.
Romeo is the elder brother. He turns two on June 21st so don't forget to wish him a happy birthday! Marvin says Romeo got his name because he is such a sweet tempered, loving capybara.
Tuff'n is about six months younger than Romeo. Tuff'n's name is short for "tough one." He was injured during birth and lost his right ear and the sight in his right eye. But he really is a tough little capybara and hasn't let that keep him down one bit. He is just as friendly and just as loving as his older brother.
Stacy, Coral, Georgianna & Mia, Coral, and I, met up with Marvin at their house and then we all drove to the park where Elizabeth was waiting with their two capys. We were curious how they would react to little Mia. Neither Romeo or Tuff'n had seen another capybara since they were babies. We thought they might accept Mia because she was only six months old and a female. But you can't be too careful.
Here's Mia on her way to meet Romeo and Tuff'n.
Here are Romeo and Tuff'n on their way to meet Mia. How will it do? Friends or enemies or frenemies?
At first Mia didn't seem interested in her two new friends. And Tuff'n (in the back) seemed to echo her opinion. But Romeo was all like, hey, who's this?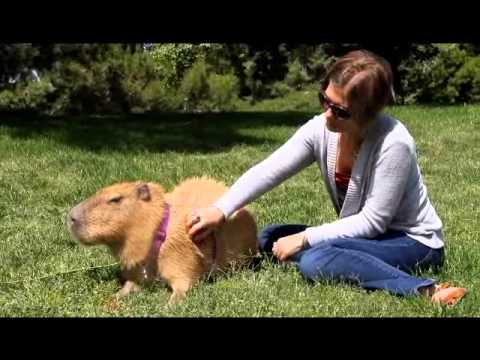 Romeo drives Mia away
All's well that ends well.
Actually, this isn't the end. I'll be writing another blog post about our time with these two amazing capybaras in the near future. Unfortunately, Mia and Georgianna had to head home so they will not be part of the next installment.