Finally I am getting around to posting about my visit with Dobby(e) Winnick.
Let me start by explaining his name. Dobby's real name is Dobby but some people know him as Dobbye. This is because he has a Facebook page and Facebook refuses to allow him to name himself Dobby. So his name on Facebook is Dobbye Winnick. He also has a Facebook page for Prince Dobalob. You can look him up. Or visit his blog, Pet Capybara.
I'm going to start this series of posts on Dobby–who knows how many there will be!–with an introduction to his habitat. In the photo above, you can see him looking into his kitchen area from the back porch. He might have gotten the windows a little dirty, but at least he didn't break them!
If you follow Dobby, you know he knows how to open his door. You also know that Stacy is constantly complaining about how messy he is. But look at the above photo! Clearly Dobby is entering the house as sweet as a pea. Everything is nice and tidy and no mud on his feet at all. Plus all his rugs are clean and laid neatly on the floor.
And look how politely he asks for his breakfast milk! Is that a sweet face or what? Okay, there's a little grass or something stuck on his chin, but nobody is perfect.
Once he has his milk, he seems to be quite a neat eater (drinker?). He has an interesting milk drinking technique that is displayed in the video below.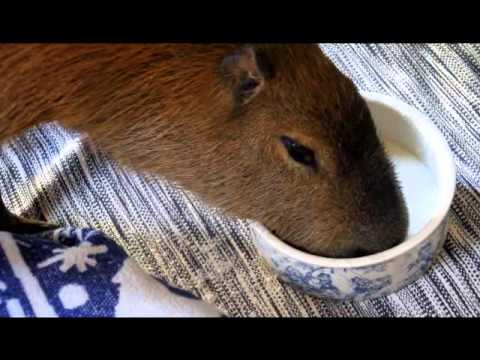 Dobby Drinks His Milk
If you're wondering what all that screeching is in the video, it's all these birds that Dobby shares his kitchen space with. The blue cage is a little crippled sparrow. The red cage is a dove that can't stand up. The cage above the WOK sign is a parakeet. And the cage on the far right is two cockatiels. See that little space under the rack holding the cockatiels? When Dobby was a baby, he used to fit under there.
You'll notice that everything still looks neat.
You never know what you'll find at Stacy's house and on this day, Dobby found a band consisting of Becky Winnick, Matt Kinman, and Moe Melligan.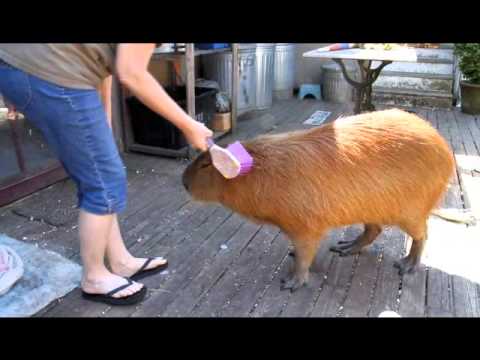 Dobby Gets a Concert
I don't guess he gets that every day. In my experience, music is hit-or-miss with capybaras. There was some music Caplin Rous really liked, mainly classical, and some that would make him click in anger (Willie Nelson). Dobby seemed to like this music pretty well. Guess he's just a country boy.
Here's what part of Dobby's yard looks like. I've labeled things so I hope they make sense.
Of course, capys like water too so Dobby has both a big pool and a kiddie pool for his private use. He also has a bathtub with potentially warm water in the winter, but he has, so far, refused to use that.
Remember, you can click on the photos to make them bigger if you can't read the labels.
Of course, there's nothing better than a good rub while you're wallowing in the water. Luckily, Stacy is there for just that purpose.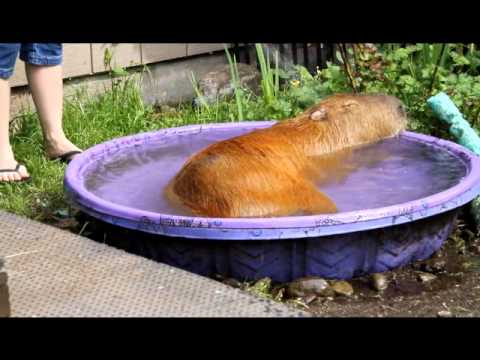 Dobby in the pool
Stacy says that Dobby knows all of his body parts, or at least many of them.
Dobby isn't used to the warm weather we had while I was visiting; I brought it with me from Texas. Even so, he didn't take a particularly long soak.
I think that's going to be it for this post. I'll have to cover the front yard next time. Hope y'all enjoyed it.